In Northern Samar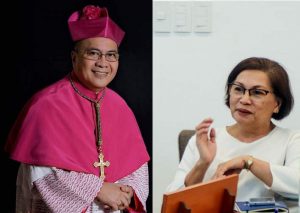 TACLOBAN CITY – The Sangguniang Panlalawigan of Northern Samar passed a resolution commending individuals who are helping the province in the peacebuilding effort and heritage conservation.
Commended for their contribution on peacebuilding are Office of the Presidential Adviser on Peace, Reconciliation, and Unity (OPAPRU) Eastern Visayas Area Manager Imelda Bonifacio and Catarman Diocese Bishop His Excellency Most Reverend Emmanuel Trance.
The Oct. 3 resolution, authored by board member Albert Lucero, commended Bonifacio for her' diligent watch' of the several infrastructure projects that turned out be successfully implemented.
These include the road to Silvino Lubos, the Lope de Vega to Silvino Lubos road, the Las Navas to San Jose de Buan, Samar Province road, the farm-to-market roads in Mapanas, and the Lapinig to Jipapad, Eastern Samar road.
"Bonifacio has shown her leadership and commitment as Eastern Visayas area manager of the OPAPRU, and as such, she was instrumental in the establishment of the PAyapa at MAsaganang PamayaNAn (Pamana) provincial project monitoring team in 2014, which has eventually contributed to the efficient and effective implementation of Pamana program in the province," the resolution states.
Pamana is a national government convergence initiative aimed at extending development interventions to marginalize communities, particularly those that are isolated, hard-to-reach, and conflict-affected, to ensure inclusivity and progress.
In a separate resolution, the provincial board acknowledges the contribution of the leader of the Roman Catholic Church in the province being one of the prime movers of peace-building efforts and a spirited advocate of heritage conservation in the Province of Northern Samar thru Samar Island Partnership for Peace and Development (SIPPAD).
SIPPAD, a convergence of the three Samar Island Bishops headed by the bishops of the Diocese of Catarman, Calbayog, and Borongan, aims to address poverty by linking concerned agencies to provide solutions to problems in the three provinces of Samar, and also conducting third-party monitoring on high-impact government projects to ensure that they will be finished on time and are constructed based on specifications.
The convergence includes officials from the Philippine Army, Philippine National Police, local government units, people's organizations, and non-government organizations.
The resolution said that Bishop Trance spearheaded the conservation efforts of important artifacts, articles, and heritage churches, and had in fact entered into a memorandum of understanding with the University of Santo Tomas for a series of church heritage conservation projects.
He is one of the driving forces behind the establishment of the Nuestra Señora de Salvacion Historical and Ecclesiastical Museum in Lavezares, the first-ever repository of religious and faith riches in Northern Samar.
(ROEL T. AMAZONA)