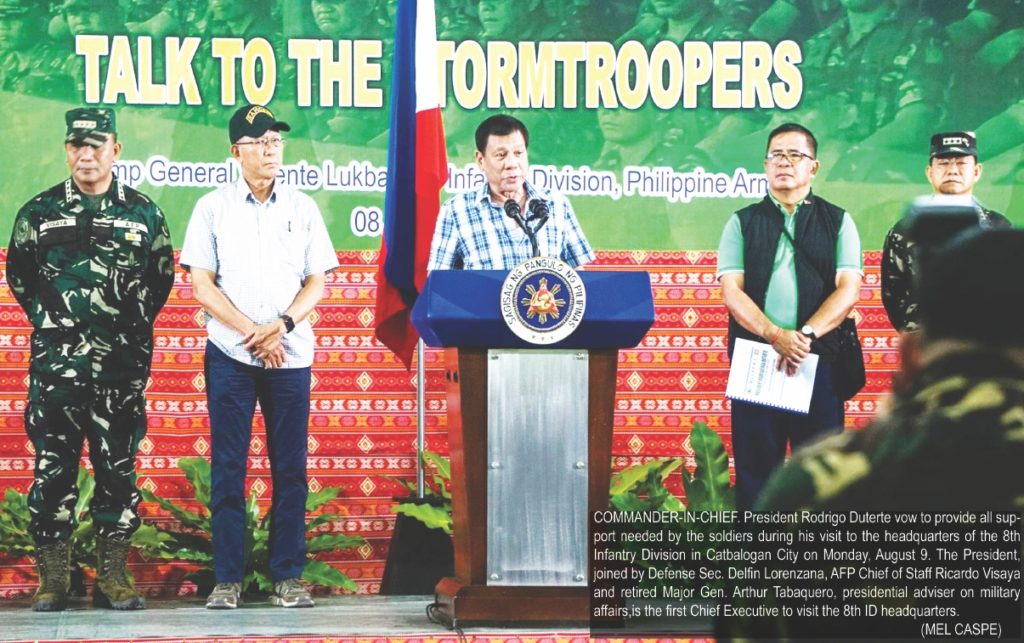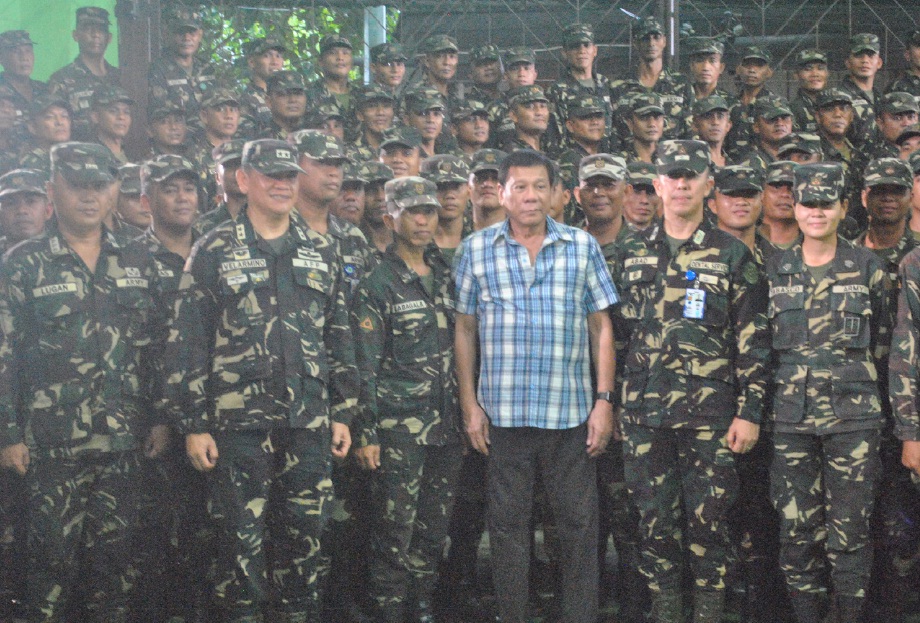 CATBALOGAN CITY- President Rodrigo Duterte assured soldiers of the region that he will provide his full support by giving them their needs. The President visited the 8th Infantry Division at Camp Lukban, this city, on Monday (August 9) who announced that he already approved to repair the military hospital, among others. Mr. Duterte, the first Commander-in-Chief to visit the 8th ID, was joined by Defense Sec. Delfin Lorenzana, AFP Chief of Staff Ricardo Visaya and retired Major General Arthur Tabaquero who was the former commanding general of the 8th ID from 2008 to 2010 and now serves as the presidential adviser on military affairs. His Monday visit was Mr. Duterte's first to the region after he won the May 9 presidential polls.
In his speech before the 500 soldiers and medical staff of the division, the President said that he is happy with their "achievements" in addressing the region's insurgency problem. Before he met the soldiers, the President attended a security briefing attended by the region's top army officials led by Major Gen. Jet Velarmino, commanding general of the 8th ID. "I am happy to share this moment with you, to meet you personally and all your officers to tell you na ang Republika ng Pilipinas, the machinery of (the) government, nandiyan sa tabi, sa likod mo," the President said. Mr. Duterte announced that he would convert the presidential plane into an air ambulance for use by the soldiers and upgrade their equipment on their fight against insurgents. "And I want it (done) fast," he said, referring to the conversion of the presidential plane into an air ambulance.
He also announced that the division will be getting a new building for a new and modern medical facility inside the camp. "Lahat ng makatulong sa inyo, inyo na. And I am happy to know that the situation (here) is very good and at par with the rest of the infantry divisions all over the country," the Commander-in-Chief said. In his 15 minute- speech, the President reiterated his desire to end the country's insurgency problem through a peace negotiation with the leaders of the Communist Party of the Philippines-National Democratic Front (CPP-NDF). He, however, stressed that the CPP-NDF group should show their sincerity by not using land mines against the government troops as these are prohibited under the Geneva Convention.  "My job as a President is not to look for fight and to allow people die. My job as the President is to seek peace with everybody so that we can move on to the next generation para yung generation after us wala ng problema sa insurrection and they can go anywhere throughout the country and develop the Republic for their own… yung mga anak nila," Mr. Duterte said. Eastern Visayas, particularly the provinces of Samar, Eastern Samar and Northern Samar are still facing the insurgency problem.