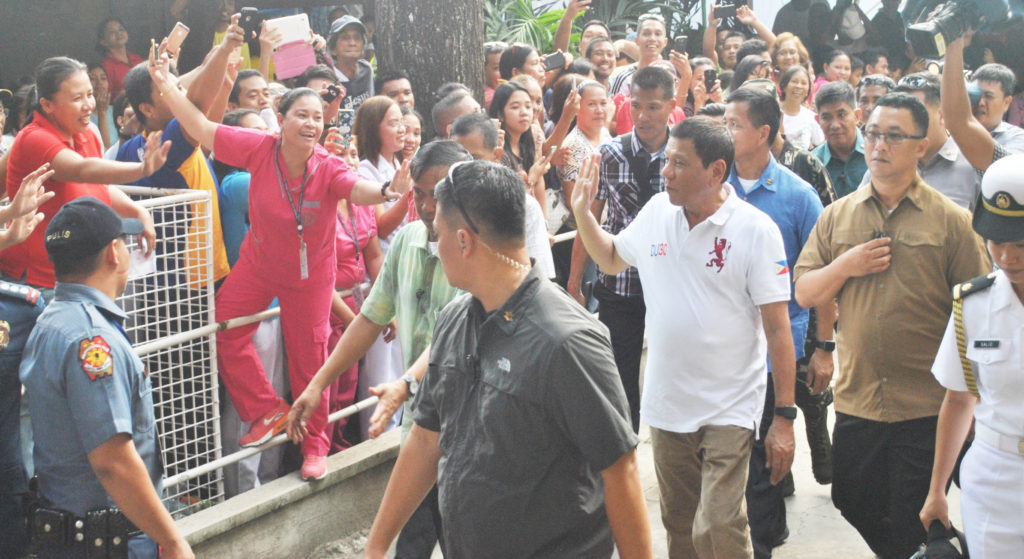 Accused as a drug protector
TACLOBAN CITY- Without batting an eyelash and in his true fashion, President Rodrigo Duterte asked Senator Leila de Lima to resign. Duterte also said that if he was the embattled senator, "I will hang myself." "If I were de Lima, ladies and gentlemen, I'll hang myself. The innermost of your core as a female is being serialized every day. Dapat mag-resign ka. You resign," the President said during a statement he made after he visited a police officer confined at the Divine Word University Hospital (DWUH) who sustained injury during a gun battle with a drug pusher in Marabut, Samar on August 24.
"Wala kanang mukha na ipakita sa mga babae.Follow me.I will show you how it is be a woman of the world," the President added.  Mr. Duterte had directly implicated de Lima as a protector among the country's drug lords. He also alleged the former Justice Secretary to have carried an illicit affairs with his driver, Ronnie Dayan and with a certain Warren. The senator, who chairs the committee on justice, had initiated a Senate hearing on the extra-judicial killings involving alleged drug users and pushers in the course of an all-out war against illegal drugs proliferating in the country by the President. But the President said that he abhors killing innocent people.
"Sino ba gusto pumatay sa kapwa mo? Do you its very easy to kill human being. You build the nation over the bones of your countrymen?" Mr. Duterte said. "Pero, I said, I have to save this generation. Otherwise, compromise ang ating society bukas. Masyado malawak; by the millions. So the previous, they allowed it to bloom," the President said. The President, accompanied by Sec. Christopher "Bong" Go, arrived at the hospital at 2;01 pm, an hour late from his scheduled arrival. He was welcomed by Tacloban City Mayor Cristina Romualdez and DWHU officials. In Catbalogan City, the President visited the wake of PO1 Gary Cabaguing who was killed during a gun battle involving a drug pusher at Barangay Logero, Marabut, Samar on August 24. Cabaguing, 32, died on the spot while another companion from the Samar Provincial Police, POI Nestor Villanueva, 25, was hit at his right chest. Villanueva was confined at the DWUH who was visited his Commander-in-Chief on Monday afternoon. Their meeting, not allowed for media coverage, lasted for almost 30 minutes.
"Nandito ako para suportahan; ipakita sa mga pulis that they have my support, personal and magtutulong ako whatever it takes," he said. "I would like to assure everybody and the police and the law enforcers and all that sa trabaho nila, if they get into trouble in performance of their duties, they can hold me responsible. I will assume full legal and official whatever, responsibility for their actions," the President said. He also said that the police officers knew when to kill or not the suspects involved in the illegal drug trade. Mr. Duterte also said that despite of the criticisms that he earn in the course of his campaign on the proliferation of the illegal drugs in the country, he would still continue it saying it is a "personal" campaign.
The President also chided human rights groups for criticizing his campaign particularly on the alleged extra-judicial killings that were reported to have happen.
"You can see their bigotry. Gusto lang nila akong titirahin," he said.
He particularly cited the alleged silence of human rights group on the beheading of an 18-year old Patrick Almodovar in Jolo, Sulu by the Abu Sayyaf.
JOEY A. GABIETA, ROEL T. AMAZONA, LIZBETH ANN A. ABELLA AND
SARWELL MENIANO