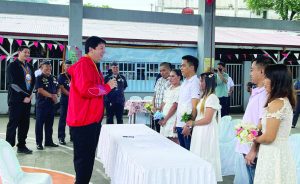 Raises concern on teenage pregnancy cases
TACLOBAN CITY– The Commission on Population and Development (Popcom) in Eastern Visayas is strengthening its partnership with the local government units (LGUs) to further cascade its various programs and activities.
Elnora Pulma, the Popcom regional director, admitted that they are facing some difficulties in engaging the LGUs due to some of their concerns.
The Popcom official added that they are pushing for a close partnership with the local government units as teenage or adolescent pregnancy cases in the region continue to be at an alarming rate.
"They equate Popcom to family planning or fertility program which is not the case. Popcom provides all the data to the LGUs, especially on the adolescent birth rate which is a silent factor for population growth," Pulma said.
"This means to say that if they gave birth as young as 10 years old, they will be a burden to the LGUs," she added.
Based on the data of Popcom-8, 3,494 girls or from 15 years to 19 delivered births last year.
Pulma insisted that their office is not all about family or fertility planning but has several programs focusing the adolescents to make them productive and attain a better future rather than becoming young parents.
She described adolescent pregnancies as a 'dependent population' which means they are dependent on the attention and care of the LGUs.
"So this means, no matter how big is their allocation, if your population is dependent population, then you have to provide with all their social needs and services," Pulma said.
It was learned that some LGUs are not open to Popcom's programs as they see it as a cause for a decline in their population which is a factor in computing their national tax allotment, formerly known as internal revenue allotment.
Reyan Arinto, Popcom regional information officer, said that of the six provinces of the region, only Leyte, Northern Samar, and Samar have permanent population offices while out of its seven cities, only Baybay in Leyte and Catbalogan have no office of their own.
And of the 136 municipalities of the region, there are only 12 of them which have their own population office.
He said that they are visiting LGUs in the region to convince them to have their own population offices.
"We've been speaking with local chief executives and we are getting positive response (from them) as they are bent to appoint population officers," Arinto said.
Popcom, he said, will provide LGUs with technical and even financial support to them in the course of implementing the population management programs to include the youth development program.
JOEY A. GABIETA