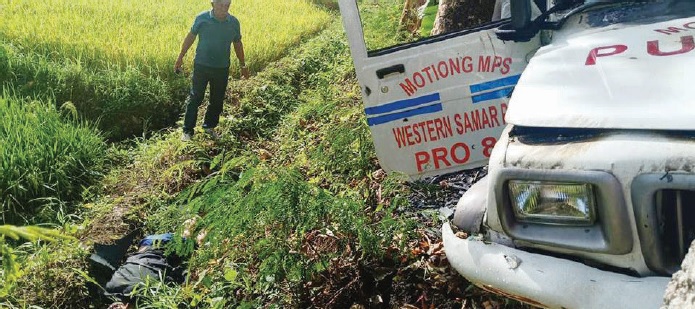 Incident killed 1 cop, wounded other and a civilian
TACLOBAN CITY- The entire police force in the region is now in heightened alert after members of the rebel group, the New People's Army(NPA), staged an ambush in Motiong, Samar Monday (March 11).
And hours after the ambush incident that killed a police officer took place, the NPA admitted that they were behind this latest incident targeting government law enforcers.
Speaking through his spokesperson Supt. Ma. Bella Rentuaya, police regional director Chief Supt. Dionardo Carlos said that he strongly condemns this atrocity committed by the rebels against the policemen.
"We condemn such act of violence," Carlos said, as he asked the public to be on the lookout for any 'unusual movements' on their areas that could be involving members of the rebel group.
The ambush incident in Barangay 1A which is located along Maharlika Highway, Motiong resulted to the death of PO3 Glenn Meniano and injured PO1 Jane Abejar and a civilian, Silvestre Igdalino.
The police officers were on board of their vehicle when they were ambushed by the rebels at about 7:15 am with series of gun shots and loud explosions heard.
They were returning to their police station after getting water from the nearby police station in Paranas.
Motiong has been identified where insurgency remains to be relatively active.
PO1 Abejar, who was hit at her right thigh, was able to report the incident to her superior, Inspector Alfredo Aquitana, Jr.
She was then brought to the nearest hospital for medical attention.
Carlos proceeded to Motiong to personally look into the incident. He also promised to provide assistance to the family of PO3 Meniano.
And in statement, Roy Santos, information officer of the National Democratic Front-Eastern Visayas, admitted that it was the members of Efren Martires Command who were behind of the attack who used command-detonated explosive.
BY: JOEY A. GABIETA with Lizbeth Ann A. Abella