To ensure peaceful and orderly polls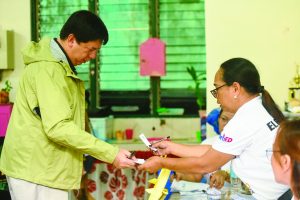 TACLOBAN CITY– The entire police force in the region is now in full alert status as more than 4 million registered voters are to troop to their polling precincts for today's barangay and Sangguniang Kabataan (BSK) elections.
This was disclosed by police regional director, Brigadier General Reynaldo Pawid during a press briefing on Saturday (Oct.7).
It was learned from Pawid that more than 7,000 police personnel were deployed all over the region's areas, especially in areas where possible election-related incidents could take place.
The red alert status was put into effect on Saturday as election paraphernalias are to be distributed.
According to Pawid, the entire police force in the region is ready to secure the voters and ensure that the conduct of balloting in Eastern Visayas will be peaceful and orderly.
The police regional director said that out of the more than 7,000 police deployed for poll duties in the region, more than half of them were deployed in the third district of Leyte and the Samar province where shooting and killing incidents were recorded in the past covered within the election period.
It was learned from Pawid that over 2,400 police were assigned in Samar province, particularly in the city of Calbayog, and 2,300 in Leyte's third district consisting of five towns, namely, Calubian, Tabango, Villaba, Leyte-Leyte, and San Isidro.
"The entire force of the Police Regional Office 8 have come prepared and are ready to serve and secure a peaceful conduct of the election on Monday," Pawid said in the press briefing.
He also said that they are in close coordination with their counterparts in the Army and Coast Guard in close supervision with the Commission on Elections.
Pawid added that beginning Saturday, the entire police force in the region is now 'in full red alert' status.
"Everything has been laid down, starting for the deployment of security, intelligence, checkpoint operations, and augmentation, especially in areas which need most the presence of police personnel," he said.
He disclosed that he himself visited the six provinces of the region to personally monitor and check the security preparations and their situation relative to the conduct of the barangay and Sangguniang Kabataan election.
Out of the region's 4,365 barangays, 391 of them were classified as concern areas- 197 as 'areas of concern';131 as immediate areas of concern; and 63 as grave areas of concern.
Pawid also said that they have not monitored any groups who will sabotage the conduct of the village balloting though they have monitored three 'critical' armed groups of which one is classified as a partisan armed group.
He did not disclose where these armed groups are based.
Meantime, the Comelec said that five cases of vote buying were reported to their office. Of this, two each were from the town of Llorente, Eastern Samar and Calubian, Leyte. The one was in Julita, Leyte.
Jenette Fariola-Ruedas, Comelec regional information officer, said that they have already forwarded these complaints to their legal division at their central office.
Vote-buying in the different parts of the region were noted, the amount depending on the positions being sought by the candidates.
Those seeking for barangay kagawad, the amount ranged from P50 to P300, while those seeking for chairman offered P100 up to P2,000.
In Samar, soldiers on board their service vehicles used public address systems roaming around to ask the voters not to resort to vote buying and selling.
LIZBETH ANN A. ABELLA/ JOEY A. GABIETA