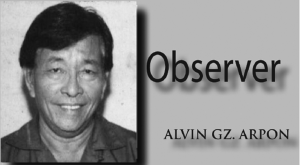 The Supreme Court in ruling unconstitutional some portions of the Disbursement Acceleration Program (DAP) may be right, but the President's reaction to it is justified.
President Noynoy has been expressing and spreading his disgust over the Supreme Court decision, because that decision has effectively blocked the on-going development projects from these funds to the dismay of local government officials and twenty senators who got shares for "their projects" and of course current and future beneficiaries of DAP.
To refresh our memory how this program of President Noynoy Aquino became a fodder of a controversy: It started with a privilege speech delivered by Senator Jinggoy Estrada who was a happy recipient P99M taken from this controversial DAP that he exposed. He is also one of the main suspects in the P10B pork barrel scam who is now in detention together with three other senators "pogi" and "tanda"; Bong Revilla, pogi (daw) and Juan Ponce Enrile is of course not young.
The non-reaction of the Supreme Court on the President's views against its ruling is taken by observers as also a right thing to do. They have that power to hear cases or legal controversies and as the court of last appeal. The Supreme Court knows and open and willing to accommodate the President if he files a motion for recognition on their dubbing DAP as "unconstitutional".
The President likewise has all the privilege to express his views contrary to some Supreme Court rulings he feels he is not in accord. He believes that his implementation of the Disbursement Acceleration Program is in good faith. This "in good faith" was sneered at by some commentators in broadcast media saying that invoking good faith as a defense on the "unconstitutionality" of some DAP programs is dangerous. Well, to me it all depends on how credible that public official is.
-0-
The nation is aware of the sincerity and honesty of President Benigno S. Aquino III. We can trust "good faith" moves of this President. Definitely however this "good faith" will not apply to one or two former Philippine Presidents whose lips uttered "good faith" only to realize later that such was said because what they did resulted in personal advantage and favor for themselves.
-0-
We urged now President Aquino to immediately, file a motion for recommendation over this issue of being unconstitutional. This is necessary in order to pursue with the on-going projects from DAP funds so Filipino people can avail of them soonest.
Along with this we urge the Commission on Audit to do their jobs to seriously conduct a review on how DAP funds have been spent with special focus on Senator Jinggoy Estrada, the whistle blower who also benefit DAP funds but exposed it as an anomaly.
-0-
Come to think of it: How about making an audit report on the alleged P1B discretionary funds and other fund releases received of the Supreme Court! That will just being fair.