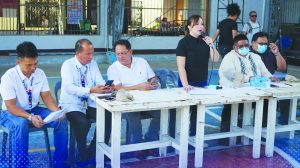 Tacloban City – Six years in the making (2017-2023), the " Proposed Ordinance Regulating The Use Of Plastic And Utilization Of Polystyrene As Packaging Materials In The City Of Tacloban, And Prescribing Penalties For Violations Thereof" was finally passed for third and final reading during the City Council's regular session on Thursday afternoon, March 23, 2023.
To recall, the Committee On Environmental Protection And Waste Management chaired by Councilor Aimee Delgado-Grafil had been pushing this since 2017, but was slowed down in the years due to economic hardships brought by natural calamities- the latest of which was the over 2 years of COVID-19 pandemic at its highest peak.
On March 20, 2023, the committee chair called for another public hearing at the CEO Gym attended by business owners/and or their representatives.
The City Council further agreed that the newly-passed ordinance regulating plastic usage shall take effect in January 2024 or once signed by the City Mayor Alfred S. Romualdez. (TACLOBAN CITY INFORMATION OFFICE)