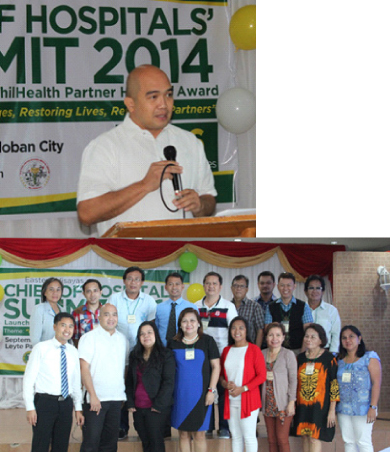 TACLOBAN CITY-– PhilHealth Regional Office 8 in collaboration with the Department of Health and the Eastern Visayas Regional Medical Center recently gathered the chiefs of accredited hospitals in the region at the Leyte Park Hotel, Tacloban City.
Ninety participants from the 79 accredited private and government hospitals in Eastern Visayas attended said activity. The summit has several objectives: to provide a venue for sharing best hospital practices, to present the criteria of the PhilHealth Best Hospital Partner Award, to update partner hospitals with the new PhilHealth policies as well as give them a picture of their hospital's performance. PhilHealth Regional Vice President Walter Bacareza and Senior Manager for Benefits Development and Research Department Dr. Jennifer Raca led the PhilHealth contingents. DOH Assistant Regional Director Dr. Paula Sydiongco represented RD Jose Llacuna, Jr., while Dr. Junie Isiderio represented EVRMC.
RVP Bacareza presented the status of the health financing in the region and the PhilHealth 8 performance. Dr. Raca on the other hand, discussed the new PhilHealth policies while Renato Limsiaco, Jr., PhilHealth division chief for field oerations presented the hospitals performance per province.
There was also a sharing of best practices wherein partner hospitals presented the outcomes of implementing PhilHealth projects geared towards improving processes. Cynthia Palileo of the Samar Provincial Hospital discussed their adoption of the Integrated PhilHealth Availment Drive (IPAD) logbook. Dr. Ernesto Miralles of the Eastern Visayas Regional Medical Center shared how they improved the turn-around-time in the filing of claims with PhilHealth, while Michael Seroylas of the Leyte Baptist Hospital shared their implementation of the auto-credit payment scheme.
The highlight of the activity was the launching of the Best PhilHealth Partner Hospital Award 2014 and the presentation of the criteria for selecting the winners. This is a home-grown strategy to encourage hospitals to implement PhilHealth programs and projects and in the process increasing hospital revenues. The awarding of winners will be a major event in the celebration of PhilHealth's 20th anniversary in February 2015.
Meanwhile, RVP Bacareza said that, "Continued dialogues with accredited hospitals and other health care institutions are a testament to PhilHealth 8's dedication to provide the people of Eastern Visayas with access to quality health care". (PR)