PALAPAG, Northern Samar– Citizens launch Pedal Palapag, a climate solution initiative and bike-share program in the municipality of Palapag, Northern Samar.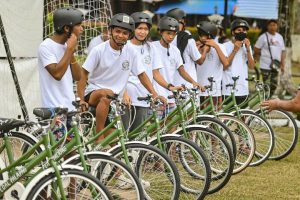 For its pilot program, 15 bicycles were distributed to students of Barangays Manajao and Binay, along with two mountain bikes for municipal disaster risk reduction management office(MDRRMO) officials.
The initiative uses active mobility to adapt to climate change and aims to bridge the distance between students' homes and the school, ensuring a smoother commute for recipients.
Pedal Palapag is an effort between Sarayo Forests, various barangay-based people's organizations (POs), local outdoor clubs, as well as the locality's DRRMO.
"As climate impacts escalate, access to education gets affected, disproportionately more for the most vulnerable communities. Green transport solutions can answer this challenge to adapt sustainably," said Greenpeace campaigner Jefferson Chua.
"Through projects like this, we take the power back from corporations to decide for us, and show the world that collective community action is not only possible but necessary," he added.
Pedal Palapag coincided with the Dalagan Race in celebration of the 438th founding anniversary of Palapag, Northern Samar.(PR)