Passion and Death of Jesus Christ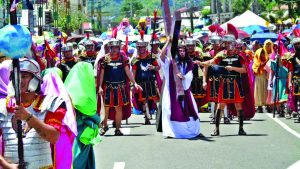 PALO, Leyte– After two years in hiatus, the reenactment on the passion and death of Jesus Christ held in this historic town every Holy Friday has resumed with thousands of spectators amid searing heat.
The holding of the 'Pamalandong' was canceled for the past two years due to the pandemic coronavirus disease (COVID-19).
Both the Archdiocese of Palo and the local government unit of Palo led out plans to ensure that no untoward would happen during the event, which has become a crowd-drawer.
The Municipal Disaster Risk Reduction and Management Office and the Bureau of Fire Protection, as part of the security measure, only allowed the public to climb the Guinhangdan Hill for their "station of the cross" ritual from 4 am to 6 pm.
The Pamalandong, reenacting the passion and death of Jesus Christ started at 1 pm followed by the Seven Last Words that ended at exactly 3 pm, the time Jesus Christ said to have died while nailed at the cross. (ROEL T. AMAZONA)