PALOMPON, Leyte– The local government here is now in the thick of things making this town a tourist haven where tourists cannot just enjoy the pristine water of Kalanggaman Island, undeniably its most known tourist destination.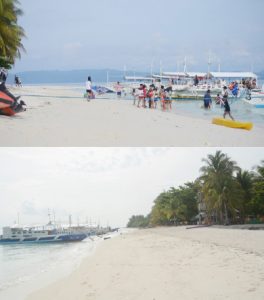 Jenny Beltran, the tourism consultant of the local government unit, said in an interview that there are plenty of sites that the town can offer to tourists and not just Kalanggaman Island.
Among them are the town's eco-park, Tabuk Island, the Palompon Terrestrial Eco-Adventure Park, Maria Anabe Cave, and Heaven Garden.
The Palompon Eco-Park showcases modern technology for a cleaner environment as the LGU purchases modern equipment to make their garbage disposal thoroughly hygienic.
The LGU has purchased the 02-1000 decomposition machine, the only of its kind in Leyte, which burns all rubbers, like tires, coming from the garbage collection and brought to the material recovery facility at the Eco-Park. After being put into the machine, this will be burned, and what is left are the metals from the tires.
Also, in the eco-park is a shredder machine that will pulverize all kinds of glass recovered from garbage collection and turn this into a tiny particle that they will add as raw materials in the hollow block industry.
The park also has a biodegradable shredder that will grind all biodegradable waste, such as leaves and coconut waste, into small particles and store them for several days until they become organic fertilizer.
Another alternative place to visit is the Tabuk Island Marine Park Fish and Bird Sanctuary which is just 10 minutes by boat from the mainland.
The island served as the protector of the mainland during the onslaught of Super Typhoon 'Yolanda' 10 years ago as this blocked a huge wave brought by the strong winds of the typhoon from going to the town proper.
The whole island can be viewed at a lighthouse for a breathtaking view of giant fruit bats and other birds nesting in thick mangrove forests. At the seawaters, tourists can view big fish roaming in the sea, as the area was declared a fish sanctuary in the early 1990s. A tourist can also see several species of mangroves inside the island through a bamboo boardwalk.
Another attraction of the town is the Palompon Terrestrial Adventure Park located in Barangay Liberty. The adventure park has a zipline and a sky bike.
The sky biking will traverse a 100-meter line from the starting platform to the other end while the zipline from a platform at the eco-adventure is parked, it will cross the opposite mountain and travel again back to the adventure park. The rides at the eco-adventure park are very affordable, as they will only cost P100 per ride.
(ROBERT DEJON)