Roles and responsibilities of project engineers and project inspectors. Engr. Bryan Jeramiah L. Mercado and Engr. Jon Mikel L. Maniquis both from the Construction Support Services Division, Bureau of Construction, this Department, discussed the importance of documentation, proper attitudes and discipline in project documentation, field documentation and monitoring, and payment and project close-out.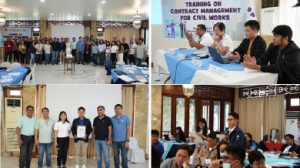 The last two (2) days of the training/seminar were spearheaded by Engr. Ryan M. Cabarubias, Section Chief, Claims Review Division – Price Escalation Review Section at the Bureau of Construction. Engr. Ryan vigorously discussed the important documents for contract management including forms, variation orders, termination procedures, blacklisting, and time variance.
During the discussion, he reiterated that all those documents are important and should be treated with utmost attention as these could make or break the project as well as those involved in the project implementation.
Overall, the training/seminar was a success as evidenced by the active participation and cooperation by the attendees especially during the conduct of workshop prepared by the resource persons. They also showed interest through active participation in the open forum and they even requested insights on some problems encountered in their projects.
For the closing remarks, OIC Assistant District Engineer Peter Scheler V. Soco expressed his hopes that the participants would be able to apply their newfound knowledge effectively and also highlighted the value of the training as a bonding experience among the engineers from the different DEOs.
The DPWH Leyte 4th DEO remains committed to enhancing the skills and capabilities of its workforce to ensure the successful and efficient completion of civil works projects in the region.
(ROBER T. DEJON, with DPWH-ORMOC report)