PALO, Leyte– Several activities have been lined up by the local government here as it is to celebrate its 193rd fiesta celebration on August 6.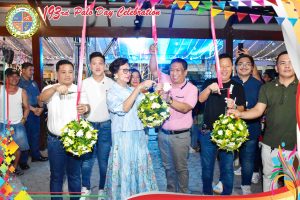 Among these activities include cultural presentations and competitions aim to introduce these to the younger generations of the town.
These activities include the performances of Palo Culture and Arts Organization and Shadow Arts Theater, 'tinikling' dance contest, and 'siday' competition for elementary students.
Tinikling is a traditional dance of the country that originated in Leyte province while siday is a local term for poetry.
"We want our children to appreciate our local heritage and culture at a very young age for them to carry this on until they grow old," Danny Lerios said.
Lerios added that this kind of activity no longer exists in other local government units in the province when they celebrate their fiesta.
"Like siday, it is a way of expressing someone's feelings. Although we can also have this for high school we have this competition for elementary so that they can appreciate while they are young which they can share their story as they grow," he said.
Aside from showcasing tinikling and siday, the LGU also prepared an activity that will showcase local cuisine and dishes from the town, highlighted at the Palo Food Heritage Festival.
"We wanted to deliver a statement that Palo is a place to go for entertainment, food, relaxing, community-based program, and a culture hub not only on songs and music but also on food," Mayor Remedios Petilla said.
The Palo Food Heritage Festival is a form of competition participated by residents of the municipality cooking local dishes in a way that was cooked traditionally.
"We want to restore them and we want our children and the younger generation to learn how to cook it and to let the heritage food of Palo going," Petilla added.
But aside from activities highlighting arts, culture and heritage, the LGU also organized the first Guinhangdan Urban Downhill MTB challenge, which competition is to be held at the Guinhangdan Hill and will be participated by about 87 adventure cyclists from Leyte, Samar, and some participants from Cebu, Luzon and Mindanao.
(ROEL T. AMAZONA)