TACLOBAN CITY–The Philippine Airlines (PAL) will conduct a trial of two additional Wednesday flights on September 6 and 13, exclusively for Borongan City.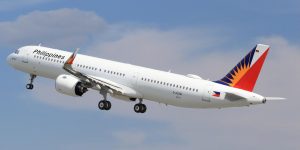 The management said that the decision has been influenced by the growing travel demand, particularly in light of the upcoming fiesta celebrations.
In a statement, PAL said that they will provide their clients with an enhanced travel experience to Borongan City.
Whether their clients are reuniting with their family, immersing in the city's cultural festivities, or pursuing their travel interests, these supplementary flights are at their service, it added.
This marks the inaugural occasion for Boronganons to return home and revel in the fiesta by flying directly to Borongan Airport, said PAL.
The Borongan airport was completed in March 2013 and has been rarely used for commercial operations until the Borongan-Cebu flights started in December 2022.
It was completely shut down at the height of the coronavirus disease (COVID-19) pandemic.
PAL operates Cebu-Borongan flights twice a week – every Monday and Friday.
(LIZBETH ANN A. ABELLA)