TACLOBAN CITY – The Office of the Vice President (OVP) together with the Department of Environment and Natural Resources (DENR) in the region and the local government unit of Matag-ob, Leyte planted 8,500 indigenous seedlings on the tree planting activity in support of the 'PagbaBAGo: A Million Learners and Trees Project.'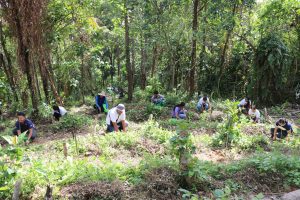 DENR 8 Regional Executive Director Lormelyn Claudio, Richard E. De Jesus, assistant satellite lead of OVP- Tacloban, Matag-ob Mayor Bernandino Tacoy led in the tree planting held in the 11-hectare area in Barangay Malazarte.
Claudio, in her message, encouraged those who participated in the tree planting to ensure that the seedlings they planted will survive.
She also urged those who participated to influence others to engage in tree planting activities and other undertakings whose goal is to protect and conserve the environment.
"Protecting our nature should be a priority. You can do that by influencing others in popularizing environmental management and protection approaches," Claudio said.
Mayor Tacoy thanked the OVP and DENR for including Matag-ob in the PagbaBAGo project and committed his full support to the endeavor.
"I would like to ask you today, to be part of the program, be part of the legacy of everyone, to make Matag-ob green again. Making our environment sustainable and taking care of it is the only lasting legacy that we can give to our future generation," the town mayor said.
He also shared that in the previous tree-planting activity of the LGU, they were able to plant around 10,000 seedlings.
The PagbaBAGo: A Million Learners and Trees Project of the OVP is a special project targeting to plant 20,000 tree seedlings each year per region until 2028 in support of the government's National Greening Program (NGP) according to De Jesus.
He added that they are targeting to plant at least 100,000 indigenous tree seedlings in the region by 2028.
De Jesus added that since the program was launched by the OVP in the region this year and had planted 1,000 mangroves in Catbalogan City, and 5,000 indigenous tree seedlings in Basey, all in Samar province. (ROEL T. AMAZONA)