Shear line triggers the serious rainfall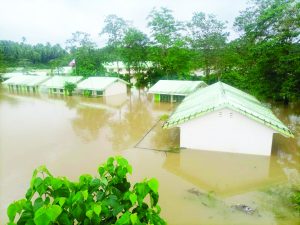 TACLOBAN CITY– The Office of Civil Defense (OCD) in Eastern Visayas said that 8,612 families consisting of 32,422 individuals were affected by the flooding incident caused by a shear line that has been experiencing by the region since Friday (Dec. 23).
The affected families were all from Eastern Samar with the towns of Jipapad, Arteche, and Oras that were mostly affected, the OCD said on its report.
Meantime, the number of deaths due to the bad weather has now reached to four with six fishermen still missing.
In Jipapad, where all of its 13 barangays went under water reaching up to the second floor of the houses there, 2,780 families involving 9,913 persons were affected; in Arteche, 1,155 families consisting of 4,652 individuals were also hit by flooding while 4,677 families comprising 17,856 persons from Oras town were likewise affected by flooding.
In Northern Samar, while flooding incidents were also reported in some of its towns like in Catubig, it was more on the missing fishermen who ventured to the seas despite of the rough seas due to the bad weather.
Two fishermen were confirmed to have died with their remains recovered.
They are Pablo Cerbito, 43 of Barangay Rawis, Laoang town whose dead body was recovered on Christmas Day at about 8:40 am along the shores of San Jose town, also in Northern Samar.
Also recovered was the dead body of Jimmy Adante,47 of Brgy. Lao-angan, San Roque town.
His remains were fished out from the seas in Brgy. Magsaysay, Bobon town, also in Northern Samar at about 3:53 pm on Christmas Day.
Earlier, two fishermen from Jasaan town, Misamis Oriental died in the waters of Pintuyan, Southern Leyte after their fishing boat capsized. Six of their companions survived the December 25 incident.
Meantime, six fishermen are confirmed to be missing.
In Palapag town, Northern Samar, two fishermen, Jonathan Ponce and Roy Tusing, remain missing with seven others rescued earlier.
Jeremy Alexandre Evardone, the municipal disaster risk reduction management officer, said that they still continue on their search and rescue operations to find the two missing fishermen who are from Brgy.Talolora.
"We are coordinating with our nearby towns to help us find the two fishermen. We are still hopeful that they are still alive and okay," he said in a phone interview, adding that going to the seas remains perilous due to rough water.
Also missing are Reinold Zabalsa,39 of Brgy.Cahayagan, Laoang town and Felipe Esmerio, 40 of Brgy.Lao-angan, San Roque, both in Northern Samar.
In Quinapondan town, Eastern Samar, fishermen Jaime Cawaja,50, and his younger brother, Elmer,47 were declared as missing as they failed to return to their village in Palactad since they were last seen on Dec. 23.
But Jaime cawaja was found in the waters of Brgy.Balagawan in Silago, Southern Leyte on Monday(Dec.26) at about 8 am.
In Leyte, one fisherman from Brgy. San Rafael, Dulag town, Dominador Cionelo, 40, is also reported missing since Dec. 24.
Meanwhile, the engineering district in Eastern Samar, where several flooding and landslide incidents were reported, said that all roads are now passable.
"As of 8 am of Dec.25, all roads are passable to all types of vehicles during Christmas Day. Floods have subsided and all landslides were already cleared," district engineer Maya Junia said in her report to the regional office of the Department of Public Works and Highways.
Meantime, residents in Jipapad town who have evacuated due to the severe flooding have returned to their respective houses on Christmas Day after the flood water subsided.
Since Friday (Dec.23), the town has experienced heavy downpour which resulted in flooding reaching up to the second floors of several houses causing the residents to flee their homes.
Most of these affected families took shelter at the municipal hall and to their relatives whose houses are located at higher grounds.
Vicky Abestros, municipal disaster risk reduction management officer, said that the families returned to their homes as early as 6 am as the flood water started to recede.
"But they celebrated the Christmas Eve inside the evacuation center where they were provided with foods by the local government unit. Some of them were able to prepare something to eat like pork, chicken and pancit," she said.
Power supply was also restored at around 8 am, Abestros said.
"Hope we will have a good weather during the New Year's celebration," she said, noting that she had to be at the evacuation center during the Christmas celebration instead with her own family.
Meantime, a tornado hit the village of Hamorawon in Guiuan town, also in Eastern Samar.
Based on the report of village chairwoman Benilda Godoy, the tornado hit their village at about 7:10 am on Saturday (Dec.24) which resulted in the destruction of 12 houses and four motor boats.
No person was hurt during the incident, she said.
JOEY A. GABIETA/ ROEL T. AMAZONA