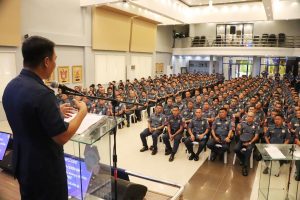 TACLOBAN CITY– B/Gen.Vincent Calanoga, the police regional director, graced the opening ceremony on Wednesday (Oct.11) of the revitalized – pulis sa barangay (R-PSB) training held at the regional police headquarters at Camp Ruperto Kangleon, Palo, Leyte.
About 584 police officers attended the gathering held at the multi-purpose hall at the said police regional headquarters.
The R-PSB initiative contributes to the National Task Force on Local Communism and Armed Conflict's (NTF-ELCAC) goal of ending the decades-long problem of insurgency of the country.
The R-PSB deployment will assist in the delivery of basic human-rights services to underprivileged communities especially in the Geographically Isolated and Disadvantaged Areas (GIDAS).
They shall serve as focal persons in identifying pressing concerns in the respective barangays including peace and order, livelihood, and sanitation, among others.
Also, they will strictly monitor the peace and order situation in the respective barangays on a daily basis and conduct activities that will promote community engagement and policing.
(LIZBETH A. ABELLA)