(This story is part of the journalism fellowship of the Philippine Press Institute under the auspices of the Hanns Seidel Foundation.)
Aljon Cainto Operario, is a smart and confident 28-year-old Public School Teacher at the San Julian National High School in Eastern Samar. Who could have thought that the son of a lowly Taho (Filipino Tofu in Sweet Tapioca Bits) Vendor and a plain housewife for a mother would become a respectable teacher in the community.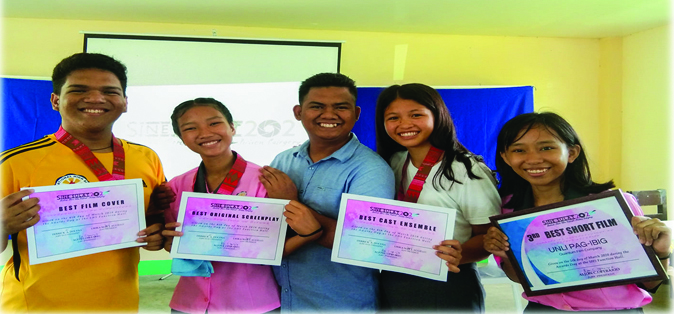 Operario, is the eldest of a family of four and he attributes this life changing chance to the assistance of the Terre des Hommes Netherlands (TDH-NL) a Civil Society Organization.
Behind the rosy reality of the slow yet sure rise from the throngs of poverty in the Island of Samar are a few Civil Society Organizations that had painstakingly worked, assisted and aided-on children and livelihood of its people. The Civil Society Organizations includes Save the Children International –Philippines with local headquarters at Tacloban City, Terre des Hommes Netherlands (TDH-NL) with headquarters at Borongan City Eastern Samar and the Center for Empowerment and Development also of Borongan City Eastern Samar.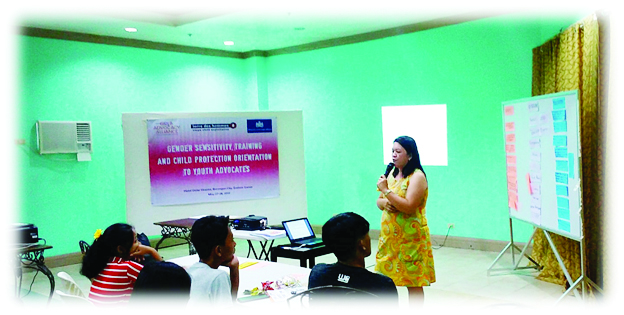 Operario, is one of the 1,081 (One thousand eighty-one) scholars of Terre des Hommes Netherlands (TDH-NL) from the Municipality of San Julian Eastern Samar. The scholars are given assistance comprehensively from Junior High School to College, Eastern Samar the erstwhile poorest Samar Island Provinces with an average poverty threshold of 43 % in 2018 it is now to 36 % in 2021.
Happening before the onset and inception of free tuition law when going to college was a big burden, these organizations steps in. The scholars were carefully selected, they must be coming from the poor and marginalized or indigents and that they are also academically good. He remembered as a Third Year High School Student when he became one of the scholars, the benefits that the organization gives includes, free school fees, book allowance, transportation allowance and food allowance. Terre des Hommes Netherlands (TDH-NL) had chosen him to be one of its scholars due to good grades and by constantly doing its best, this happened up until he graduates with a degree in Bachelor of Secondary Education Major in English and Literature from Eastern Samar State University in 2016.
As a Senior High Teacher, his story is a good example of overcoming the shackles of poverty and Mr. Operario, had become a legend of sorts in San Julian National High School.
Donabelle Lapesora Abalo, former Project Manager of Terre des Hommes Netherlands (TDH-NL), is presently Executive Director of Center for Empowerment and Development (COPE) in Eastern Visayas. She had been in the forefront of the people's organization involvement in governance; she declared " The story of Mr. Aljon Cainto Operario is one of the success stories of Terre des Hommes, he had shown tenacity and resolve to go beyond the limits of poverty and succeeded. The other recipients had also made good in their fields, the best thing about Mr. Operario he had also volunteered as one of our dependable development worker helping our organization.
Abalo who co –authored a book entitled 10 Years of Safeguarding Samar Children from 2008 – 2018 Story of Human Compassion of Children at Risk has been very active in the NGO/PO front and had contributed a lot in the Civil Societies Organization.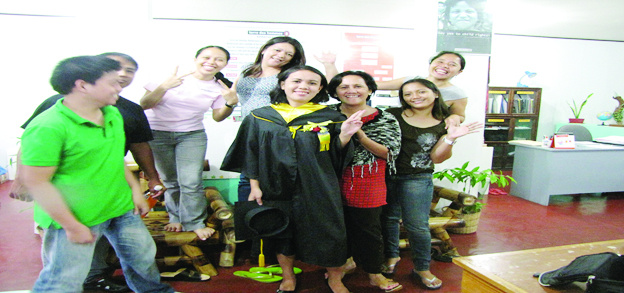 Another breakthrough story is that of Nadine Nicart who was a college drop-out when Terre des Hommes Netherlands (TDH-NL), met her in 2008. She was 19 years old at the time, despondent and uncertain about her future. Terre des Hommes Netherlands (TDH-NL) considered her disadvantaged and at risk of exploitation. She was able to hurdle underlying odds to attain success. Nicart declared; If not for TdH-NL, I would have remained an Out of School Youth, with my future uncertain. I am very happy and very fortunate to have gained their support. I was inspired by TdH-NL staff to study hard. Because of TdH-NL I have achieved my dream and fulfilled my promise to help my family. Now I could use myself as a medium to help others.
Nadine's and Aljon's story is just one among thousands of inspiring stories TDH-NL and its staff have woven in its 10 years of championing child's rights and child protection in Eastern Samar. She was among the 1,627 out of school youths identified by TDH-NL as at risk and more vulnerable to exploitation, and therefore must be given access to quality education.
Abalo added that "the CSOs had been criticized due to tokenism and other unsavory description but most of the people in the CSO's had been motivated by principles of transparency and accountability they augment to the efforts of the government. And stories like that of Aljon Cainto Operario and Nadine Nicart creates a shouting testimony of their relevance.
Save the Children
Save the Children, is an organization who would do whatever it takes to help children. From the official website we can find these information "Save the Children believes that every child deserves a future. In the Philippines and around the world, we work hard every day to give them a good start in life, protect them from violence and any other damage, and help them learn crucial skills. When crises affecting children strike, we are among the first to respond. We ensure children's unique needs are met and their voices heard. We deliver lasting results for millions of children, including those hardest to reach."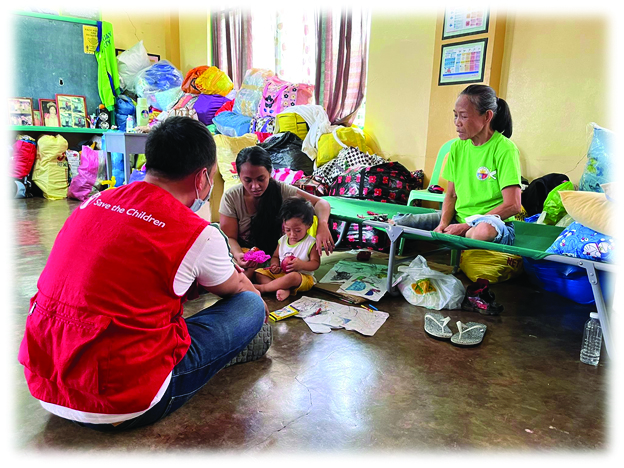 Philip Ariane Oledan, an Official at Save the Children states that "I think [local] governments should facilitate meaningful participation of CSOs in governance. Meaningful participation ensures relevance of government programs. "He further added that relevant programs will mean effective, efficient & impactful programs that are beneficial to the concerned sector. Oledan had been in the forefront of the efforts of Save the Children in helping them get health care and proper education.
One of its partners include the Provincial Government of Eastern Samar under the Provincial Social Welfare Officer, with Provincial Government Assistant Department Head Brenda Aurora Basada who declared "Our Local Disaster Risk Reduction Management Plans of the province became child friendly and gender sensitive because of the advocacies, capacity building that Save the Children has provided to us. We were able to update our GAD Code and Children's Code and they have also helped in their education. Save the children has helped our province in increasing the awareness of people especially the vulnerable on their right to protection before, during and after emergency. The vulnerabilities of children, women and other sector has decreased through the policies that was enacted and approved with their assistance."
Mayor Raymond Uy, City Mayor of Calbayog Western Samar, declared that his city is on the economic rise. In the banner story of Leyte Samar Daily Express dated September 13,2022 in a story written by Ma. Rise Calico and Riza Legitimas, Mayor Monmon, as he is fondly called by his constituents declared that Calbayog City sees economic development and stability these days. It can be recalled that the city is infamous for the many killings that it has on record earning the moniker "Kill-bayog" ´.
Mayor Uy, is just starting on his very first term and this early he is making a declaration of progress and economic stability. Incidentally, the City is also a major partner of Civil Society Organizations or Non-Governmental Organization. They also have Save the Children and Terre des Hommes Netherlands (TDH-NL). And the organizations are vibrant in terms of engagements, in recent years.
There is an apparent silver lining that the three (3) provinces of Samar Island. It had shown steady rising trend in Anti-Poverty Metrics, giving a picture of growth, a picture of weathering of the poverty as the results of the comparative statistics available from the Philippine Statistics Authority; the decreasing trend of poverty threshold is herewith tallied, with Eastern Samar from 43 to 36 (7%), Northern Samar from 30% poverty in 2018 pegged at 23% in 2021 an improvement of 7% and Samar (Western) Province from 32% in 2018 to just 30 % in 2021. A total of 16 % improvement was shown and this is cutting across the Provinces of the Island. This means that 16 percent of the population had shown signs of their remarkable departure from poverty.
The engagements of several Civil Society Organizations and Non-Government Organization had made considerable impact in the lives of the people. The Terre des Hommes Netherlands (TDH-NL) in the past 12 years had send to college 1,081 scholars and made a big difference in their lives, Save the Children are doing projects on fighting hunger among children, immunization, education, health and nutrition (first 1000 days), disaster risk reduction and climate change, parenting sessions, and child participation in governance in partnership with Local Government Units. All these had undeniably helped the people move off from poverty slowly but surely it all did created a major headway.
The possibility of the making of success stories in the provinces of Samar, infamous of its killings and lairs and secret camps of Communist Movement is making a comeback. It had slowly become a peaceful, livable place. It had also proven that Civil Society Organization had been potent instruments of helping people achieve their dreams.
The inspiring stories of Mr. Aljon Cainto Operario and Ms. Nadine Nicart two of the more than one thousand scholar beneficiaries of a Civil Society Organization, are living testimonies of the positive impact these organizations provide the people.