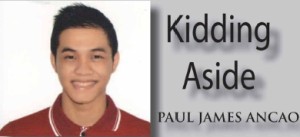 I still feel like it all happened yesterday, that historic day when Typhoon Yolanda pummeled Tacloban to literally nothing.
This is my first time to talk about the experience. This is also the time when I feel I have to fully move on. None of my relatives perished and I believe that is reason enough to outgrow the trauma, but the universal fear that my hometown may not be able to bear the rigors of recovery haunts me everyday. The real typhoon, and the more powerful one, came in after Yolanda left.
I will never forget the days that followed after the typhoon. The set-up was like in a studio of a Hollywood film. It's as if I had become a bit player in the "Walking dead" and "Warm bodies". I felt the ambience of a zombie apocalypse along the streets. Dead bodies, tumbled cars, hungry people, uprooted trees and dark evenings impended the city for weeks. I never expected to participate in looting but I did. I was there in the mob of ransacking people and I never was conscious of anything. Until now, I still believe that it was not stealing but foraging. I would rant at anyone who would say that Taclobanons staged potent thievery. It is human instinct to cling to survival by all means especially after such a horrific event. The repercussions after Yolanda were worse and more life threatening. Year 2013 shall never be forgotten not only in Tacloban but also in the world.
Today, after 100 days of Yolanda, how far have we gone to rehabilitate Tacloban? We were all witnesses of the world's tsunami-like help, yet we have not gone as close to at least nicely housing the survivors in the broken city. I laud NGOs who have done their part in monetary and moral uplift. But nothing will be moved if the government itself, the supposed mother aide, is not passionate to help recover Tacloban. I feel invalidated because I see no aggressive effort from the national government.
I can only look at my lamenting grandmother. I cannot even comfort her because I am afraid I might worsen her dismay. Neither Justin Beiber nor David Beckham was able to make her at ease. Perhaps, if everything falls back into place, she might get a grip of herself. I also feel her anger for the government. She has not mentioned anything but I know from my heart she is, as much as I am, depressed of what little steps we have taken to recuperate. I am glad she is no active member of any social media site. Because if she were, she would even be more disheartened.
People in facebook and twitter say that it will take years, probably 5-10 years before we see utter normalcy again. Why does it have to take this long? There is no standard time of recovery. If Sec. Petilla was able to at least light a few streets before Christmas, then anything else is possible. I believe that we will recover this long not because we ran out of options but because we declared it by choice.
It is our choice to recover within 5-10 years. It is the choice of the government to tiptoe toward full healing. I whine because I want to see my hometown get back up as fast as possible. But this may not be the case if only a few people believe we can do it quick. If we stop discouraging our neighbors, or ourselves then we are helping each other. We are helping a faster upturn for victims. And let us not promote 'Tindog Tacloban' anymore because I know we all have stood up already. The more appropriate tag line now should be 'Gios Tacloban' or 'Gios Pilipinas'.
I do not want to feel like Yolanda came just yesterday. I want to feel like it happened months ago and that we are done with her.