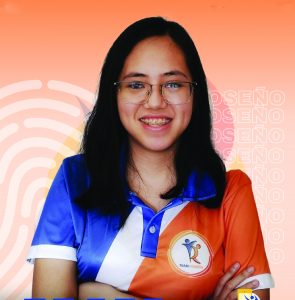 TACLOBAN CITY– A graduating Nurse student won handily in the race for the Sangguniang Kabataan (SK) top post in Barangay 109-A, V and G subdivision.
Maxinne Allyssa Cancino Roseño was proclaimed as the duly-elected winner for the chairmanship of the SK in the village during the recently-concluded barangay and SK polls.
And the 23-year old Nursing student was rather surprised by her poll victory considering that of the 900 SK voters in their village, she only knew one of them, her schoolmate.
But she worked hard to get the majority votes of the SK voters by campaigning hard and practically went to a house-to-house campaign, aware of the 10-day campaign period set by the Commission on Elections (Comelec).
"I was overwhelmed by the number of things expected from a candidate. It is vastly different from school elections where you will just introduce yourself in every classroom because if you are an SK candidate, you need to visit every house," she said.
Roseño helped in giving out campaign materials around their barangay and took the initiative to introduce herself to SK voters in order to gain recognition.
"I had to manage my time well between school and running as a candidate. It is hard since our school has a hectic schedule," she said, emphasizing how she values education.
She is currently a 4th year college Nursing student at the Remedios Trinidad Romualdez (RTR) College of Nursing in Tacloban City.
Roseño stated that there were times she had to go on hospital duties and then promptly meet with the other SK kagawad candidates in her lineup.
"There was also a time that I needed to go home immediately during a motorcade because I would be late for my hospital duty," she said.
On election day, Max and her political team partnered with Tingog Kabataan Inc., a non-stock, non-profit, socio-civic youth organization.
Together, they established a Voter's Assistance Center offering free SK precinct verification and blood pressure check.
They also offered complimentary water and Maxx candies to pedestrians, poll watchers and voters, regardless of what barangay they belong.
"It was a good thing that I voted early in the morning without any inconvenience. There were no queues and the weather was not that hot," she said.
At 1 am, the following day of the balloting, Max Roseño was officially proclaimed as the SK chairperson of Barangay 109-A, V and G Subdivision, Tacloban City, garnering a total votes of 352.
Additionally, five of her SK Kagawads were also elected: Iris Jaingue (1st Kagawad), Nitay Bareja (2nd Kagawad), Mavs Duran (4th Kagawad), Deb Gonzaga (6th Kagawad), and Jorge Coral (7th Kagawad), were also proclaimed as winners.
"I did not expect that I would win as a first-timer. I would like to thank all those who voted for me and provided invaluable support during the campaign," she said, adding that she is very much ready to lead the youths in their village by coming up programs and activities that would benefit them.
(JOEY A. GABIETA)