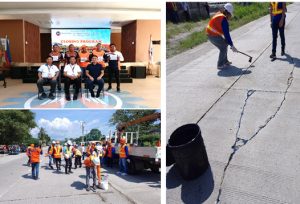 NSSDEO, Brgy. Burabud, Laoang, N. Samar-Department of Public Works and Highways Northern Samar Second District Engineering Office (DPWH-NSSDEO) technical personnel Engineer Danny M. Pillado, Jr., together with field personnel of NSSDEO Maintenance Section, attended the Maintenance Enhancement Training (MET) for Maintenance Crew and Road Workers, in compliance with Department Order 189, s. 2022, held at DPWH-Regional Office VIII, Multi-Purpose Hall, Baras, Palo, Leyte, on October 2-4, 2023.
OIC-District Engineer Charlito S. Carlobos and OIC-Assistant District Engineer Atty. Arthur Eric L. Sabong directed District Maintenance Engineer Francisco Y. Tañala to allow his maintenance personnel, namely: MPP Engr. Pillado, Jr., together with four field laborers, Jeffrey Balicat, Salvador Sacristan, Juvy Balading, and Rodrigo Romaces, to attend the MET.
All participants were requested to bring their respective equipment, materials, and safety devices such as service vehicle; safety vest and DPWH orange uniform (long sleeves); traffic cones, concrete cutter, vibrator plate compactor, torch/burner, air compressor, asphalt mechanized sealer and minor tools that will be used during the Field Application/Demonstration on road repair work.
The resource speakers for the training were Engineer Pastor G. Padre, Jr. and Engineer Alvin C. Del Rosario from the Bureau of Maintenance and Engineer Toribio Odtuhan from the Regional Office. The three speakers ran the lecture discussions and the entire sessions.
The two-day training allocated for the discussion of the various topics such as Gender and Development (GAD) and its significance in the workplace. Also discussed were the roles and responsibilities of maintenance crew provided under D.O. 189, s. 2022, such as, procedural flowchart for BOM/RO/DEO, road and bridge defects and response time, special consideration during BOM Assessment, and administrative sanction and citation, Assessment Road Rating, common road distresses and proper repair works. It also discussed the compliance to D.O. 93, s. 2014, on the regular pruning/trimming and/or cutting of tress within the Road Right-of-Way of national roads, Road Works Safety and Traffic Management, followed by its workshop, cracks & joint sealing, and D.O. 168, s. 2015, for the guidelines of Disposal and Management of Soils and Debris, and Concrete Reblocking, pothole patching, pavement marking application, and Fieldwork Orientation.
Additionally, the last day of training was allocated for field application on pothole patching, and crack and joint sealing. After the fieldworks of participants, a group activity was presented.
Through this undertaking, the participants became mindful of the holistic standard on routine maintenance in actual field and to execute roadwork security and traffic management for the travelling public.(RONEL L. GALUPO, PIO STAFF/PR)