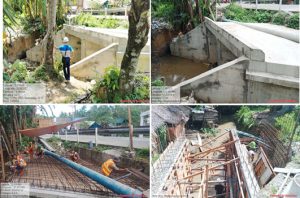 NSSDEO, Brgy. Burabud, Laoang, N. Samar– The Department of Public Works and Highways Northern Samar Second District Engineering Office (DPWH-NSSDEO), spearheaded by OIC-District Engineer Charlito S. Carlobos and OIC-Assistant District Engineer Arthur Eric L. Sabong, has completed the Construction/Upgrading/Rehabilitation of Drainage along Laoang-Calomotan Road, Northern Samar, which mitigates flooding and improve infrastructure resiliency.
The construction of drainage has a big impact to the travelling public, where the primary goal is to mitigate the risk of flooding during heavy rainfall and can enhance the resilience of infrastructure such as roads, buildings, and utilities. Additionally, this project can effectively manage stormwater runoff, the potential causes of erosion and waterlogged foundations. It can also lead to increased operational efficiency and decreased maintenance costs in the long term.
On the other hand, the completed project was supervised by Project Engineer Christian Dave Pangandoyon under contract with CDU Construction with a total contract amount of Php 2,910,475.74 million funded under DPWH-Regular Infrastructure Program of General Appropriation Act (GAA) of CY 2023. The scope of work involved the construction of 11.30 meters Double Barrel RCBC cross drainage at K0794+882.30 with Contract ID No. 23II0008.
This project will benefit road users traversing the Laoang-Calomatan Road and support positive impact of the economic activity in the area. The end-users of this project are rest assured that they can pass through even in times of rainy season by reducing the risk of floods and damage to property.
DPWH pursues its goal and objectives to provide resilient infrastructure and mitigate risks during devastating impacts of natural phenomenon affecting the livelihood and properties of the people located within the area.
(RONEL L. GALUPO, PIO STAFF)