While the authorities were to arrest the Red leader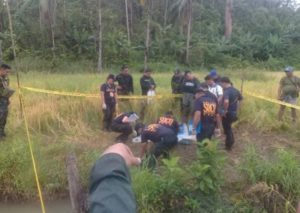 By: RACHEL V. ARNAIZ
CATARMAN,Northern Samar – A top leader of the New People's Army (NPA) has been killed after he reportedly attempted to shoot it out with government troops who were about to arrest him in his safe house in Sitio Caranas, an interior area of Barangay Guba, this town, on March 6.
Salvador Nordan, who was also known as 'Ka Badok,' allegedly drew his short firearm and attempted to shoot at the arriving team of Joint Manhunt Charlie.
This forced the operating troops to shoot which resulted to the immediate death of the suspect, said a report from the Northern Samar Police provincial office.
The operatives recovered a Caliber 45 pistol from the alleged NPA leader during the 10:10 am incident.
Nordan was facing numerous charges filed at several trial courts in the province.
The police mentioned two murder cases and one homicide case at the Regional Trial Court (RTC) Branch 19 in Catarman; one case for illegal possession of explosives at the Regional Trial Court Branch 20, also in Catarman; and one case for attempted homicide at the Municipal Trial Court (MTC) in Bobon town, this province.
According to the Philippine Army 803rd Brigade, the suspect had at least nine warrant of arrests including frustrated murder and robbery cases at the Allen Regional Trial Court Branch 23.
Nordan was identified as the vice commanding officer of sub-regional operation command of the sub-regional committee -Emporium of the NPA operating in the first district of Northern Samar.
The military in the province accused Nordan of "masterminding the different atrocities perpetrated by the New People's Army in Northern Samar particularly in the 1st District where he operates".
He allegedly led the indiscriminate firing against civilians that transpired recently in Brgy. Malvar, this town.
It was the civilians who reportedly helped the authorities in locating Nordan's safe house in Brgy.Malvar.
"This only shows that they (civilians) were already tired of the terroristic activities these NPAs have caused not only to the military but also to the helpless civilians," said Colonel Zosimo Oliveros, commander of the 803rd Infantry Brigade.
Brgy Guba is one of several barangays in Catarman that has declared the Communist Party of the Philippines-NPA as persona non grata.
The operating team brought Nordan's remains to the Northern Samar Provincial Hospital (NSPH), based here, for a post-mortem examination and subsequently turned over to the local government unit as a special operating procedure where his remains were brought to a funeral home.
"We will wait for his family to claim his remains. If nobody comes then we will proceed for the burial", said Catarman chief of police Colonel Eddie Esidera.
Catarman Mayor Francisco Rosales Jr. has agreed to shoulder the costs and provide a decent burial for the burial of the NPA leader.