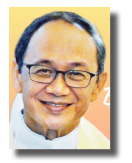 IF we are guided by our Christian faith, we know that our life here on earth is not our definitive life. We are meant to pursue our ultimate definitive life with God in heaven. Thus, our life here on earth can only be marked by the indispensable virtue of hope which is first of all a gift from God.
We are reminded of this truth of our faith in the Letter of St. Paul to the Romans. "We groan within ourselves, anticipating our adoption as the sons of God, and the redemption of our body," he said. "For we have been saved by hope. But a hope which is seen is not hope. For when a man sees something, why would he hope? But since we hope for what we do not see, we wait with patience." (8,23-25)
To be sure, this waiting with patience that hope involves is never a matter of doing nothing. It's an active waiting filled with desires and deeds to do a lot of good. In other words, to fill our waiting, our patience, with love. Hope is nourished by love.
This love that nourishes our hope for heaven need not involve big, extraordinary challenges and trials. It can first of all involve the usual ordinary little things that we get involved in everyday. It's precisely in taking care of the little things that can truly show how our love is genuine, and how our hope is nourished by it.
Yes, we can have a foretaste of heaven, our true definitive home, through the little things of each day. Impossible? Think again. It's Christ who says it in so many words. "The Kingdom of heaven is like a mustard seed…The Kingdom of heaven is like a yeast…" (Lk 13,18-21)
We need to reconcile ourselves with this happy truth of our faith that we do not have to wait for extraordinary circumstances for us to reach heaven and even to have a taste of it even while still here on earth. With the little, ordinary things in our life, we have all the means and chances to have heaven within our reach.
The secret again is to do everything, no matter how little or insignificant it is in human terms, with love. That is, with the love of God, reflecting and channeling God's abiding love for us in everything that we do, which usually are small and ordinary things in our day.
Sanctity, our ticket to heaven, certainly requires heroism, even to the point of martyrdom. But we can be sure that by being consistently loving in doing the little things of life, especially when they are hidden and unappreciated humanly, we would already be very heroic indeed.
The Book of Sirach says: "He who despises small things will fail little by little." (19,1) We have to be most careful because the neglect of little things can easily lull us to complacency, or to think that nothing is wrong and that everything is just fine.
We obviously have to contend with many obstacles along the way. We can tend to be narrow-minded and short-sighted, full of improper biases and attachments. We easily make rash judgments and are often at the mercy of our emotions and passions, putting our reason and faith to sleep.
What we have to do is to learn to find Christ in the little things which comprise most of our day, if not of our whole life. Another way of saying it is to learn to refer everything to Christ, no matter how little or insignificant it is.
This is how we nourish our hope!