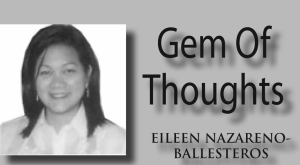 "If you had it once, it may not come to you a second." This cliche expresses the best stance people could take on amidst social dynamics and the challenges they face in this busy world. Some call it like, while others dub victory as destiny. In sum, though, this is what they make of themselves. While this positive attitude is imbued with a greater challenge akin to high sense of responsibility, there are persons who are pathetically complacent, leaving any evetuality to sheer possibilities or worse to over-confidence. Is it not simply sloth, arrogating upon themselves the power that only belongs to a monarchial king – that everyone will work for their deliverance?
Following the mindset of the slaggard that help should always come to the victims when emergency arises in the occurence of natural calamities, there will be no end to begging and dole-out tug-o-war. With the popular notion that the government is reposed with the obligation to provide the basic needs of her citizens, the more that some victims refuse to find a decent living for their and their family's sustenance.
Is this not familiar? Could we say that some of the survivors of supertyphoon Yolanda are over-acting their dearth to disguise their indolence? Do we really believe there is no hope for them to rise above the rubbles that slumped them to the ground when Yolanda plummeted Tacloban City and nearby towns? Where is the spirit of optimism? Has it drifted to the sea like the debris that were washed ashore when the storm surge walloped the hardest hits localities in Eastern Visayas?
Not all the time will the government and non-government organizations here and abroad provide food and cash to the survivors, especially those who have lost their homes and livelihood. The affected families are equally duty-bound to provide these needs for themselves, little that income might be. But a more important message, everyone should be ready of any untoward happening to avoid getting into same scarcity again when calamity strikes