TACLOBAN CITY – The provincial government of Northern Samar through its health office has recognized health program implementers, partners, and stakeholders with exemplary delivery on health services in their respective local government units, hospitals, and community health services providers.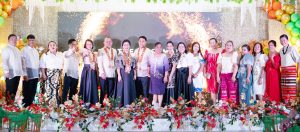 The awardees include the local government unit of Bobon and Mondragon for their zero open Defecation (ZOD) municipality Grade 1.
ZOD or Grade 1 (G1) status is achieved when the "households have stopped practicing open defecation and are using sanitary toilet facilities and no human feces are openly visible or exposed to the environment."
Also recognized under the same category were the villages of Sampaguita and UEP Zone 1 in Catarman; Brgys. 1, 3, Hitapian, Nagoocan, Roxas, San Jose, and Sta. Fe in Catubig; Brgys. Bangon, Bato, Cadac-an, Cagamutan del Sur, Guibwangan, G.M Osias, Hegonawe, Lonoy, Malidong, Occidental II, and Oriental II, all in Gamay; Brgys. Genaronagan and San Francisco in Lope de Vega; Brgys. Bagabas, Bugko, Cagmanaba, Chitongco, Doña Lucia, Eco, Imelda, Makiwalo, Mirador, Nenita, and Roxas, all in Mondragon.
Also given recognition were the villages of 3, 4, 5, 6, 7, Canjumadal, and Paninirongan, all in Pambujan; Brgys. Zone 1, Zone 3, and Laoangan, San Roque; and Brgys Acedillo and San Roman, both in Victoria.
Meanwhile, the villages of Burgos, Del Sur, and E Laodenio were recognized for ZOD Barangay (G2).
Of the 24 towns in the province, 19 of them were recognized for the completion of their local investment plan for health 2023-2025 and annual operational plan for 2023 that was endorsed to the Provincial Health Office.
These are the municipalities of Biri, Bobon, Capul, Catarman, Catubig, Gamay, Laoang, Lapinig, Lavezares, Lope de Vega, Mapanas, Palapag, Rosario, San Antonio, San Isidro, San Jose, San Roque, San Vicente, and Silvino Lobos.
The LGU of Lavezares, Rosario and San Antonio were recognized for their sustainable disaster risk reduction and management in health (DRRM-H) institutionalization (Category 1), while Allen, Capul, Catarman, Gamay, Laoang, Lope de Vega, Mapanas, Pambujan, San Isidro, San Roque, San Vicente, and Victoria for DRRM-H Category 2.
Laoang, Mapanas, and Rosario were recognized as best mental health program implementer; Mapanas as best practice in mental health and for community-based drug rehabilitation program together with the town of Rosario; Bobon for best dengue program implementation.
The Allen District Hospital, Biri District Hospital, Capul District Hospital, GB Tan Memorial Hospital, San Antonio District Hospital, and Northern Samar Provincial Hospital were recognized for their active hospital disease reporting unit.
Allen, Capul, Rosario, San Antonio, San Isidro as best implementer of national voluntary blood service program while the Colegio de San Juan Samar in Lavezares was recognized for highest blood collection among universities and schools.
For best implementer of the national STI-HIV/AIDS prevention and control program, Allen, Capul, Lavezares, Mapanas, Rosario, San Isidro, and San Antonio were recognized while the Northern Samar Provincial Hospital HIV-AIDS Core Team (NSPH HACT) was awarded as the most organized, committed, and dedicated HIV/AIDS core team.
Capul, Lavezares and NSPH were recognized for best treatment coverage rate while Catubig, Lapinig, Mapanas, Mondragon, Rosario, San Jose, Silvino Lobos, Capul, Gamay, Catarman, San Antonio, Laoang for best treatment coverage rate for LGU category.
Catarman was awarded as best in tuberculosis preventive treatment.
For Best in COVID-19 vaccination coverage, top 10 LGUs were Capul, Lapinig, San Jose, Lavezares, San Antonio, Victoria, Mapanas, Laoang, and Palapag.
For nutrition champion best practices, awardees were of Bobon for its "Adoption and Implementation of the Barangay Nutrition Action Plan in 18 Barangays," and Catarman for "Integrated Active Case Finding of TB Exposure and Infection among Malnourished Children and Contact of TB Patient."
Biri was awarded for nutrition excellence in operation timbang plus coverage while Bobon, Gamay, Laoang, Mapanas as nutrition champions in governance with full time Municipal Nutrition Action Officer (MNAO).
Bobon was recognized as a nutrition champion governance for implementing RA 11148, Asin Law, EO 51 Milk Code, and Wash and Nutrition.
Aside from local government units, the provincial government also recognizes barangay nutrition scholars for loyalty award and service award.
(ROEL T. AMAZONA)