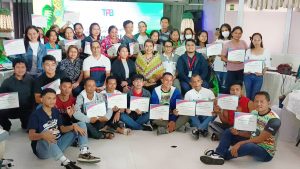 TACLOBAN CITY – Six community-based tourism organizations from Samar province attended the marketing enhancement sustainable community-based tourism workshop of the Tourism Promotion Board (TPB), an attached agency of the Department of Tourism.
These includes the Basiao Native Weaver Association (BANWA), Basey Association of Native Industry Growth), and Sohoton Services Cooperatives of Basey; Barobaybay Mangrove and Marine.
Conservationist Association (BMMCA) of Calbiga; Tour Guides and Boat Operators for River Protection and Environmental Development Organization (TORPEDO) and Tenani Association for Women and Development (TAWAD), both from Paranas.
The training aimed to empower and improve the organization's skills in terms of digital marketing, product branding, and sustainable packaging.
Among the training activities was live selling wherein members of the organization were asked to present and sell their products through social media platform Facebook.
The training was provided by Inclusive Growth Advocate, social media influencer Apple Allison.
"Never delete you videos to make them as recordings of the products that you are selling so that people may watch them again when they have time," Allison said.
Allison also reminded the participants to always look at the camera when they are doing live selling to make contact with their audience.
BANWA member Karen Cabigon said that they are thankful to be part of this training provided by the TPB.
BANWA has a total of 38 women weaver members whose products includes the traditional banig, bags, slippers, laptop case, wallets, coin purse, and sling bags.
"One of the topics that we like was the branding and doing collaboration with other associations," she said.
The group used to rely their sales on walk-in customers, but with the presence of social media, they are now accepting orders online.
DOT-8 Regional Director Karina Rosa Tiopes during the closing ceremony of the 3-day training that ended on December 20, encouraged the participants to do their best and be confident as they sell their products to wider market.
"If you are from the industry you need to be proud of what you are selling, you know how to sell, and you have great confidence to say what you need to say, to market what you need to market because you are already equipped with the skills thru this training. Most importantly, practice what you learn," she said.
(ROEL T. AMAZONA)