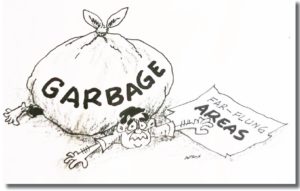 While city residents of Tacloban are required to pay for garbage collection every year, especially among subdivision households, some subdivisions do not enjoy such services from the city for reasons that no garbage trucks ever visit their place, their garbage uncollected, rotting in corners swarmed by flies and agents of decay.
St. Anthony Subdivision at Brgy. 87, Manlurip, San Jose, is one classic example of said areas. Garbage trucks used to visit this place to collect its trash. Its residents then waited for this regular collection based on specified time. But since then, these visits had become irregular till it became rare. This time, no such garbage trucks ever show up, to the great dismay of residents who are faithfully paying for garbage collection as required.
If the garbage collectors will just choose certain locations for reasons of ease and short distances, then the authorities must do something to resolve this matter. Tacloban City is now a big metropolis, not just a small urban center. Some areas of the city lay on the outskirts and, though a little distant, they still form part and parcel of the city. Since, like the downtown areas, they also produce garbage over time, they should likewise enjoy the city services like garbage collection for which they are paying, anyway.
Where are the people to dump their trash if the same are not collected by those who are tasked to do so? They can't just do it anywhere? Besides, doing so is not also allowed! So where should they junk their trash to think that most of which cannot wait? In fact, the wait had been dragging some of their garbage had been stockpiled for weeks now. Where are these collectors now? Indeed, some things must be done by those in charge of this task, before the scavengers will scatter the piled trash into bits and pieces, before the bacteria therein will cause epidemics that would necessitate the city government to spend more.