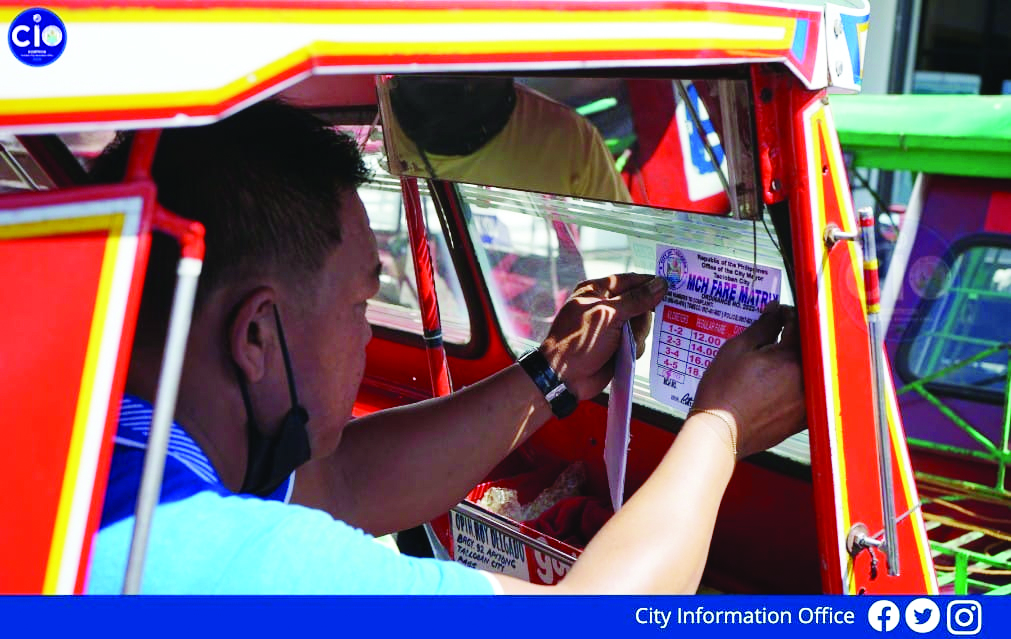 TACLOBAN CITY– The city government of Tacloban has now implemented the P3 fare increase for motorcab-for-hire (MCH) as the posting of the fare matrix or fare guide begins Thursday, November 3, 2022.
Pursuant to Ordinance No. 2022-15-03, sponsored by Councilor Leo Bahin, P12 will be charged per passenger for the first two kilometers from the previous P9. Additional two pesos will be charged for every succeeding distance traveled.
A 20 percent fare discount is mandatory for students, senior citizens, and persons with disabilities which means that the minimum far for them will be P9.60 and P1.60 will be added for the following kilometers.
Business Permits and Licensing Division (BPLD) Transport Section in-charge Gerry Abilar reminded MCH drivers and operators to secure the fare matrix before collecting higher fares as a corresponding penalty will be charged against them.
Under Section 3 of the ordinance, the operator will be fined P1,000 for non-posting, removing, or defacement of the passenger matrix or cancellation of their franchise for the successive violation within a year; and drivers shall be punished with a fine of P500 for non-compliance of the prescribed fare guide.
Abilar disclosed that BPLD is targeting to issue matrices to 2200 MCH including 30 Yellow cabs; and roughly 13 e-trikes in the city.
Commuters are urged to immediately report those drivers or operators who will collect new minimum fares without a fare matrix conspicuously displayed inside their vehicles for their safety, said Abilar.
For complaints, passengers can contact the following numbers: (BPLO) 0905-413-4018; (Tomeco) 0927-401-5627; and (Police) 0917-631-7752.
To recall, numerous complaints have reached the city government of drivers against fare overcharging from affected commuters and defying rules.
(TACLOBAN CITY INFORMATION OFFICE)