CATARMAN, Northern Samar– The provincial government here admitted to its Medical Scholarship Program (PGNS MSP) 10 more deserving Nortehanons who are pursuing their doctor of medicine degree.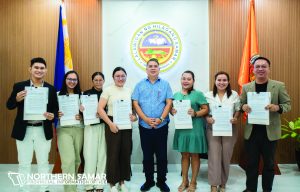 On Tuesday (Sept.12), Governor Edwin Ongchuan signed the scholarship contract admitting to the PGNS MSP the new successful applicants, in the presence of all members of the PGNS MSP Board headed by provincial health officer, Dr. Ninfa Kam and Board Member Gilbert Layon of the Sangguniang Panlalawigan who chairs the committee on health as PGNS MSP board vice chair.
A brainchild program of Gov. Ongchuan, the PGNS MSP is now in its 4th year of implementation, and this 4th batch has so far the most number of medical scholars since its initial implementation in 2020.
A total of 21 scholars are now admitted into the program, plus one licensed physician who has already graduated and currently serving at the Northern Samar Provincial Hospital.
The program entitles the scholars to a benefit package of tuition and other school fees of up to P100,000 plus stipend, book, and uniform allowances of P70,000 per semester.
Gov. Ongchuan, in congratulating the new MSP recipients, urged them to support the noble cause of the program.
"Sinisikap namin na matulungan ng programa yung higit na nangangailangan, kaya masusi ang sinasagawang screening ng MSP Board. Sana pagkatapos ninyo, kayo naman ang tumulong sa probinsya. Kayo ang pag-asa ng ating probinsya," the governor said stressing the need for the scholars to serve the province.
On behalf of the new scholars, Wendol Cojos from the town of San Vicente, expressed their profound gratitude to Gov. Ongchuan, the MSP Board and the provincial government for placing their trust and faith in them.
"You enable us to pursue our dreams of becoming doctors by investing in us, which is also investing in the future of the province. We are eager to serve Northern Samar," he said assuring the governor of their commitment to return to Northern Samar and serve the Nortehanon community once they become licensed doctors.
Aside from Cojos, also admitted to the program were Jamailah Rose M. Biagcong; Hannah Grace L. Bisnar; Ria Ariadne T. Flores; Jacob H. Rosima; Blesse N. Cale; Aphril Joy B. Loberiano; Alexis Gene W. Almasco
Gea Kleve A. Galagate; and Psalm S. Elaco.
Also present during the contract signing were provincial administrator Atty. Efren Sabong, provincial accountant Atty. Mary Grace Royo, PHRMDO head Atty. Rosa Leah Tepace-Estudillo, provincial budget officer Adelwisa Acebuche, and PGNS MSP technical working group/secretariat Dr. Catherine Miral, Amelita Norona and Teresita Gacusan.
(THE PROVINCIAL GOVERNMENT OF NORTHERN SAMAR)