The sea tragedy happened on Dec. 20, 1987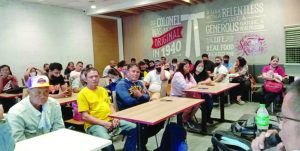 TACLOBAN CITY– A group of heirs and beneficiaries of the victims of the M/V Doña Paz sea tragedy appealed for help to President Ferdinand Marcos Jr. and lawmakers, saying they have yet to receive the compensation due to them.
"I hope our grievances will be heard, especially with President Marcos Jr., whose mother is from Tolosa, Leyte, as most of MV Doña Paz victims were Waraynon. I hope they will be given attention. Many claimants are already old people," said Danny Clores, the president of the Doña Paz Tragedy Claimants Association Inc.
In a series of photos and documents provided to Leyte Samar Daily Express, Clores said the association continues to meet with its officers and lawyer for their next action.
Meanwhile, Clores, who lost his father and two other family members during the incident, considered the world's worst sea tragedy during peacetime, maintained that he had already received his claims.
According to Clores, there were beneficiaries who received their claims in Tacloban City, Catbalogan City, and Manila in 2017.
However, Clores, a native of Barugo town in Leyte, mentioned that there are still "more or less 30 percent who have yet to receive their claims" from the 3,227 on the "master list" he said he had obtained.
In 2017, heirs of the victims received more than P200,000 compensation from Caltex International, the shipper of about one million liters of gasoline and other petroleum products aboard the M/T Victor which collided with M/V Dona Paz in Tablas Strait on December 20, 1987.
(RONALD O. REYES)