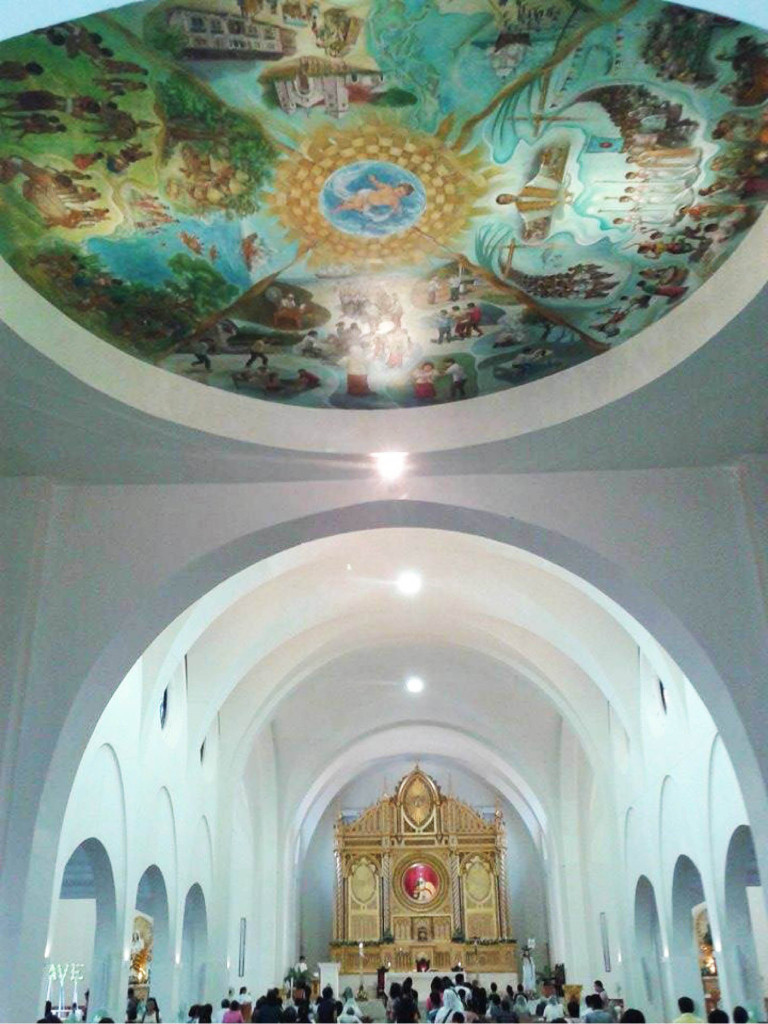 TACLOBAN CITY- If one is given a second life, he would rather offer his talent to God in thanksgiving. The undertaking started as an economic venture with all the feasibility studies in place, but after surviving the harrowing encounter with supertyphoon "Yolanda" in November 2013, nine well-known local paint artists decided to make remembrance in thanksgiving for extended life. At the entrance of the iconic Sto. Niño Church, this city, can be seen in its ceiling the mural depicting the history of the local church's faith and devotion to Señor Sto. Niño de Tacloban. This the painters describe as a legacy, a once in a lifetime unique project for them. According to Crispin Asensi, a member of KasiKasi Art Association that undertook the painting of the ceiling mural, working on the project gave the nine of them different feelings.
"We got closer to God and felt our work was being blessed because we were doing our work while the mass was going on," he recalled. "For each of us, to do this mural is a thanksgiving. We are survivors of typhoon Yolanda and are still here given the chance to paint once more and to thank God for this new life," Asensi said. The painting was finished last March after two months of intricate work. Asensi was joined by his fellow professional artists in this work namely Ernie Ybañez, Rico Palacio, Dante Enage, Archie Zabala, Archie Prisno, Billy Pormida, Jass Diaz and Jun Olimberio. Although the original plan of painting the whole ceiling of the church took four years before typhoon Yolanda struck, the final output was the mural at the ceiling by the main entrance door.
The church was among the city's landmarks that sustained major damages due to Yolanda. The 18-foot in diameter oil canvass painting portrays the salient details that explain the transfer of the fiesta celebration of the Sto. Niño from January to June 30. History conveys that in the return voyage to Tacloban, following repair made on the ivory image in Manila, the ship that was carrying it was gutted by fire. The image was jettisoned before the ship completely sank in the middle of the sea.
In the meantime that the icon of the Taclobanons faith was missing cholera epidemic broke which toll on the lives of many Taclobanons. Following long days of search, some individuals informed the local government and church leaders that the image was seen being venerated in a remote community in Semirara Island in Antique province. A group of men were tasked to retrieve the icon, which they did but stealthily as the community folks did not like to return the image. The icon was finally returned to Tacloban on June 30, 1889. On that same day, people sick with cholera started to recover from the illness and the economy flourished once more. This marked the beginning of a more fervent devotion to Señor Sto. Niño de Tacloban. (EILEEN NAZARENO-BALLESTEROS)