ORMOC CITY– The Department of Public Works and Highways (DPWH) Leyte 4th District Engineering Office (DEO) builds a multi-purpose building in a strategic area within Ormoc City's Government Center amounting to P39,599,996.87 which now provides fencing athletes with a top-tier facility for their training and development.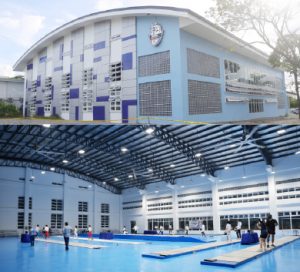 The building boasts high standard comfort to a range of amenities including a spacious 1176.6 sq.m. fencing court with 7 fencing pistes designed to accommodate rigorous training, a 54 sq.m. clinic, two (2) 80 sq.m. locker rooms for male and female athletes with 2 restrooms and 4 shower rooms each, a 50 sq.m. admin office, 35 sq.m. storage area, 2 accessible comfort rooms for persons with disabilities, 8 additional male and female comfort rooms, and dedicated electrical and mechanical rooms for efficient maintenance and operation.
According to Rafael Antonio M. Muñoz, Officer-In-Charge of the Ormoc City Sports Office, the multi-purpose building is not only being used for fencing but also for modern pentathlon, laser shooting, and obstacle courses.
It will also serve as a venue for tournaments, seminars, distribution activities, and a space for physical education classes for the students of the City College of Ormoc.
"Dako kaau ni ug tabang para maka-train ug tarong ang mga kabatan-onan ug atong mga athlete nga hinaot pa unta nga sa umaabot nga panahon, tungod ani nga facility, maka-produce ta ug mga medalists diha sa atong Olympics (This is a great help for the youth and our athletes to train properly and hopefully in the future because of this facility, we will be able to produce medalists in the Olympics)," Mr. Muñoz remarked. (PR)