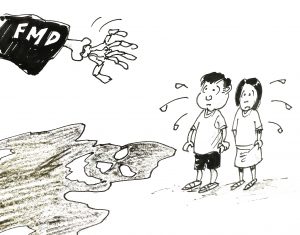 Right now, there is a post circulating on social media about Leyte having the highest number of hand, foot, and mouth disease (HFM) cases reported accordingly by the Department of Health (DOH). This could be a false alarm, but true or not, the department should clarify that matter to the public.
Hand, foot, and mouth disease is a common viral infection causing painful red blisters in the mouth, throat, hands, and feet. It is contagious and easily spreads through contact with unwashed hands, saliva, feces, mucus from the nose, and fluid from the blisters, with kids under seven being the most at risk. The soles of the feet and the palms of the hands usually have a rash or blisters.
There is no question that this disease has been spotted in certain communities in our region, especially in places where children are close to one another such as schools, camps, and other places. But if it is true that Leyte has the most cases, then people here should be extra careful in guarding their children against the disease, more so that aside from the blisters, the infected also suffer from fever, likely dehydration, and difficulty swallowing.
Since this disease causes fever, muscle pains, or other flu-like symptoms, people might mistake it for COVID-19 as we are still experiencing the pandemic. That's why people should be well aware of the symptoms that this infection causes. It's all the more alarming since the kids who are severely affected by it eventually have difficulty eating and drinking, besides being irritable, with belly pain, vomiting, or even diarrhea.
Again, these symptoms are rather scary to just ignore, especially since this disease doesn't have a cure or vaccine to prevent it. Home care is just needed until the symptoms are gone. But in the case of complications, hospitalization must be required, hence the need to closely monitor the affected.