DOT sees visit will help boost region's tourism industry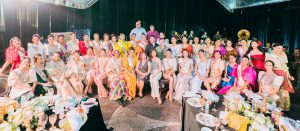 TACLOBAN CITY – The 38 candidates of the Miss Universe Philippines are all in awe and grateful for the warm welcome of the Waraynons.
The candidates had a five-day visit in the region as part of a segment of the competition.
They visited the town of Palompon and Sta. Fe, both in Leyte; Basey and Marabut in Samar. The best in national costume segment of the competition was held in this city Thursday (April 4) night won by the representative from Eastern Samar, Airissh Ramos.
During their visit, the candidates were not only able to personally see the tourist attractions of the places they visited but also savored the local delicacies.
"I am really honored and in behalf of all the ladies, I would like to thank you for the preparation for allowing us to experience Leyte, its culture, food, dances, and music," Miss Agusan Del Norte Jannarie Zarzoso said.
"This will really boost our morale, and the 38 beautiful ladies will work to show to the world the beauty Eastern Visayas," she added.
"More than experiencing the rich history and culture, we also experienced the warm welcome in Leyte. Definitely, we would want to come back and hope that more tourists will come in the coming weeks and months," Bohol candidate Pauline Amelinckx said.
"Eastern Visayas is amazingly phenomenal. From our first day up to now, we are wrap with so much joy, richness, and joy. From food, places, especially the locals, napakagaan po ng pagtanggap ninyo sa amin, at isang napakalaking pribelehiyo na makabisita kami sa inyong makasaysayang tahanan," Miss Baguio candidate Krishnah Marie Gravidez added.
Miss Makati Michelle Dee, for her part, said that being able to visit the region and share it along with her fellow candidates is a wonderful experience.
"Damo nga salamat to all the experiences, we have nothing but smile, wonderful food, amazing delicacies," Dee said also sharing her experience when they visited Sa-ob Cave in Basey where they were able to interact with the local women mat weavers.
Tourism Regional Director Karina Rosa Tiopes said that she is positive that the visit of the Miss Universe Philippines candidates will help boost the region's tourism industry.
"Over 95% of the Miss Universe Philippines candidates, organizers and technical team are first-timers in Eastern Visayas. While some trace their roots to some towns in the region, they never had the chance to visit. So, every place they visit, every dish and delicacy they taste, every craft they see, every local entertainment experience, every Eastern Visayan they engage with is a revelation of our natural bounty, our culture and heritage, artistry and abilities, character and values," she said.
Tiopes added that the activities of the 38 candidates would gain promotional mileage not only nationally but also internationally and will firm up the market positioning of Eastern Visayas as an events destination.
(ROEL T. AMAZONA)