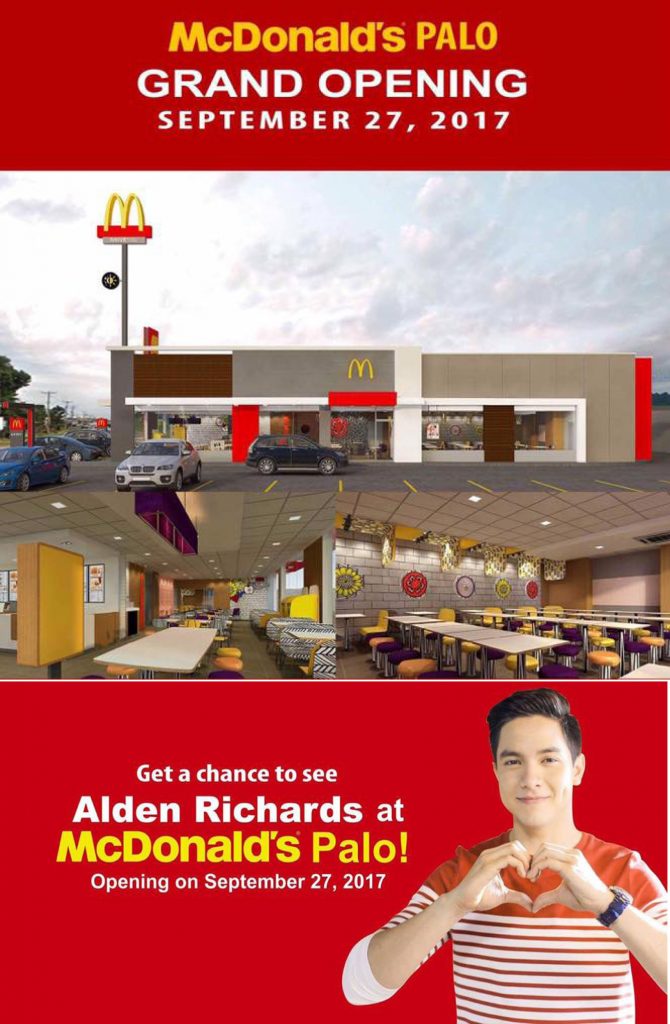 Opening of McDonald's will generate employment to the locals
PALO, Leyte- Sitting on a 1,650 square meters lot, McDonald's Palo will start to open its doors to its customers of this booming town and nearby areas on Wednesday (September 27).
And to further enliven its grand opening, one of the country's hottest actors, Alden Richards, will help welcome McDonald's Palo customers.
Caroline Lee Andrade, owner and proprietor, said that she is happy that McDonald's, one of the world's leading fastfood chains, will finally sit its foot on this historic town.
The construction of the McDonald's Palo, which has a sitting capacity of 200, started April of this year and was completed just days before its opening on Wednesday.
"We are glad that McDonald's will now be in Palo. Not only, in our little way, we can help contribute its (booming) economy through the taxes we'll be paying but also help generate employment among its locals," Andrade said.
Andrade added that aside from being a popular brand, she expects that McDonald's Palo will also do well just like their two outlets in Tacloban City.
"We have a very popular brand and we offer the best quality of foods and all-out service to our customers," she added.
For its operations in Palo, 17 kms away from the regional capital of Tacloban City and where regional government offices are located, about 100 people have gained employment.
"We have to hire the locals for their own convenience. They will no longer have to worry if they will have to go home late at night or report for work early in the morning. In fact, some of our employees who were assigned in our Tacloban branches were assigned in Palo," Andrade added.
A drive-thru is also available for customers to right away have their orders.
Among the guests for its opening are Kenneth S. Yang, president and CEO; Margot B. Torres, deputy managing director; Melon L. Salazar, senior vice president, business development group; Rebecca Roselada, assistant vice president for franchising and field service and Meryl Adiel Timbol, corporations/PR manager and president of PANA(Philippine Association of National Advertisers).
Local officials led by Mayor Remedios "Matin" Petilla and Palo Archbishop John Du will join during the blessing on Tuesday(Sept.26).
During its first day of opening, popular actor Alden Richards will be there to entertain the customers as they enjoy the all-time favorite foods being offered by McDonald's.
Richards will also have a motorcade around the town's main streets.
McDonald's Palo will formally open its doors to its customers at about 7:15 am and from thereon, there will be hourly raffles for customers to enjoy.
In the evening, there will be live band performances; a 'McSaragyaw' dance contest and a fireworks display to cap the celebration.
The following day, Sept. 28, a live band showdown will be staged at 7 pm. while a variety show with the 'On the Spot' band to perform on the night of Sept.29.
The celebration relative to the McDonald's Palo opening will have the 'McSaragyaw' kids dance contest.
Andrade first opened the McDonalds branch in Tacloban City in 2002 along Rizal Avenue and followed by another outlet along Real Street last year.
By: Joey Gabieta