TACLOBAN CITY– The city government of Calbayog has revived one of its major tourist attractions.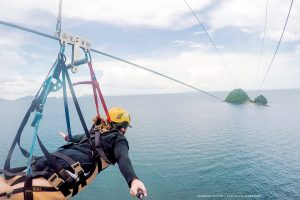 The Calbayog Zipline was reopened to the public on Easter Sunday with Mayor Raymund Uy leading the ceremony.
The attraction was first opened in 2016 but was shut down four years later due to the pandemic caused by coronavirus disease (COVID-19).
In his message, Mayor Uy expressed his deep appreciation for the project's development team and partners and emphasized that the Calbayog Zipline is not just an adventurous attraction, but a testament to the city's commitment to tourism development, job creation, and economic growth.
He also highlighted the role of the zipline in promoting tourism in Calbayog which is seen as a vital sector for its economy and in providing livelihood and job generation to communities around the site.
For its re-operation, the city government will only allow 50 tourists a day who can try the 750-meter long zipline that starts above the ridge of Malajog and will land at the Daraga islet.
It is open from Friday to Sunday from 9 in the morning up to 3 afternoon.
Visitors and tourists who wanted to try doing the zipline no longer need to call for reservations.
There are two styles that tourists may choose in doing the zipline; the superman which costs P350 and the seating position which costs P300.
A boat ride from Daraga Islet back to the mainland is already included in the costs of the zipline.
For those who are not adrenaline junky and just wanted to enjoy nature, they may trek along the trail going to the view deck and enjoy the view of Malajog beach from the ridge, enjoy the sounds of birds chirping, and different types of butterflies which cost P20.
Tourists may also just enjoy strolling along the one-kilometer stretch of sand at Malajog Beach or take a dip and swim or snorkel to ease the hot temperature brought by summer's heat.
(ROEL T. AMAZONA)