ORMOC CITY– Mayor Lucy Marie Torres Gomez delivered her State of the City Address (Soca) on October 19 to focus not only on the city's wealth but as well as health, peace, security, and good public service.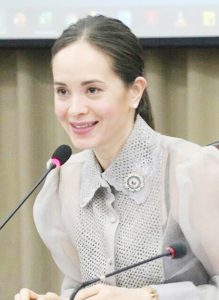 Torres-Gomez said that she is just too glad to be of service to almost 231,000 people of Ormoc for two years now.
The mayor credited her husband former mayor of the city and now representative of the 4th district of Leyte Richard Gomez for making Ormoc the wealthiest city in Region 8 with total assets of P7.4 billion.
"Our success today would not have been so, without the efficient, well-managed LGU that I took over from Mayor Richard. Indeed, it is easier to reach for the skies when standing on someone's strong shoulders. His task was not easy, building from almost ground zero, but he fought bravely and was rewarded handsomely" Torres-Gomes said in her address held at the session hall of the city council.
Torres–Gomez revealed that her ultimate dream is for Ormoc City to be one of the blue zone cities where people are healthiest, happiest, live the most fulfilling and longest life spans.
"These conditions follow the availability of world-class, relevant education and training, good health by practicing active lifestyles, and making available both holistic and modern treatments for diseases," she said.
Aside from health, the second aspect she wanted to focus on is peace and security, saying it is a factor for the city's continued growth and development, Torres-Gomez said.
"A city just cannot move forward with sustainable economic growth without peace and order and disaster resilience. All of these make up the bedrock of development. Without these, all efforts towards advancement just get washed out like sandcastles in the outbreak of violence or when a super typhoon hits the city," she said.
The third aspect the mayor wanted to focus on is good quality, reliable, and efficient public services. This includes sufficient, disaster-resilient, physical infrastructure, affordable housing, economic centers, and basic services such as power, water, and telecommunications.
The mayor ended her SOCA with a presentation to the members of the city council of the 2024 proposed city budget in the amount of P2.4 billion.
(LIZBETH ANN A. ABELLA)