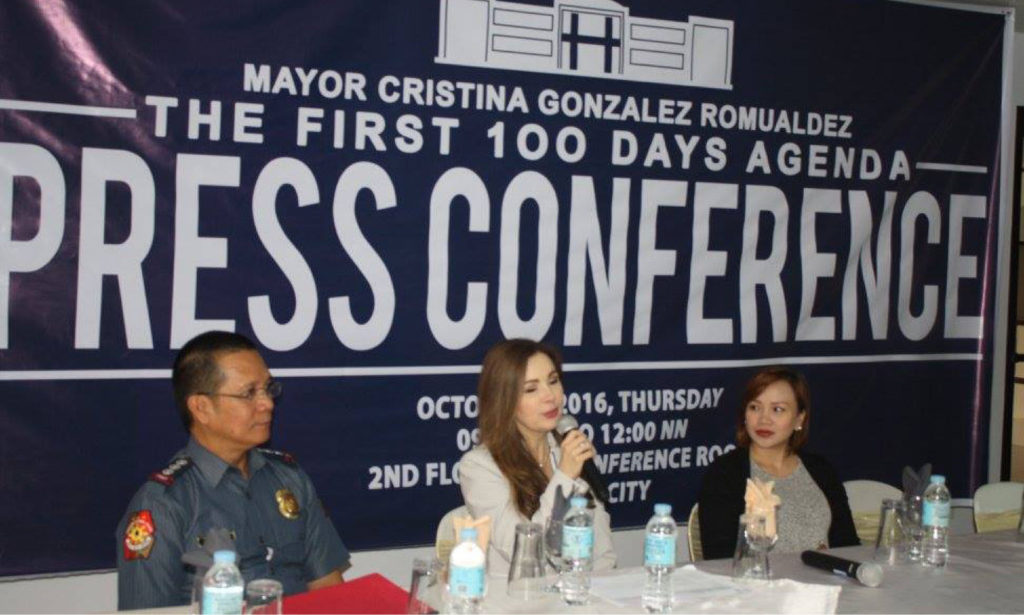 More investors to come
BY: JOEY A. GABIETA
TACLOBAN CITY-As she marked her 100 days in office, Mayor Cristina Romualdez said that the people of the city could expect a "better Tacloban."
Romualdez, serving on her first term in office, said that she is giving emphasis in improving the economic conditions of the people by inviting more investors to come and do business in Tacloban, still reeling from the massive devastation it suffered due to supertyphoon 'Yolanda.'
But first, she stressed, the families still living in temporary shelters have to be resettled to their permanent shelters in coordination with other agencies notably the National Housing Authority (NHA).
On Friday (Oct.7), 71 families living in temporary shelters were resettled to their permanent shelters in Villa Diana in Barangay New Kawayan.
Out of the more than 14,000 families projected to be resettled after 'Yolanda,' only over 2,000 families have been moved to their permanent houses located in the northern part of the city.
Mayor Romualdez said that aside from resettling families who lost their houses, she is also giving focus in improving the economic condition of Tacloban which suffered losses due to Yolanda.
"Tacloban is the premier and regional hub of the region. We have so much potentials reason why most of the shopping malls, hotels and schools are located in Tacloban," Romualdez said during a press conference on Thursday (Oct.6) as she marked her 100 days in office.
She cited the increasing number of hotels operating in Tacloban saying there was a remarkable increase of hotels in the city three years after 'Yolanda.'
The chief executive said that there are now 73 hotels, as of last count that operate in the city, higher from the more than 40 hotels doing business in the city in previous years.
The city mayor said that more investors are expected to come to the city like new shopping malls which have been often used as a barometer if an area is economically developed.
Romualdez said that investors do not just put their investments without first conducting their feasibility studies.
She also said that a business council has been put up wherein the private business sector is encouraged to work closely with the city government.
The city mayor also said that the city wide alert system dubbed as Community Climate Guide Response (CCGR) is one initiative that she is proud to have been initiated by her administration since she assumed the post.
Mayor Romualdez said that the program could save lives and prevent losses to properties in case of a disaster like typhoon, among other uses.
Since the program was launched in August, more than 3,500 residents of the city and even those living outside have used the program, mostly to have an update on weather and emergency situations like fire and vehicular accident.
The city mayor also said that her administration is also fully supportive on the campaign of Pres. Rodrigo Duterte on illegal drugs proliferation.
She launched a program intended to help drug users and even pushers to reform and become more helpful citizens of the city under her program and in the process, help improve the peace and order situation of Tacloban.
The program, 'Transformation In and Out,' has a livelihood component wherein more than 60 former drug dependents have already availed.
During her 100 days, Mayor Romualdez initiated the tree planting activities and beautification; improvement of traffic situation and garbage collection; organized tourism council; and created peace and order and anti-drug councils, among others.