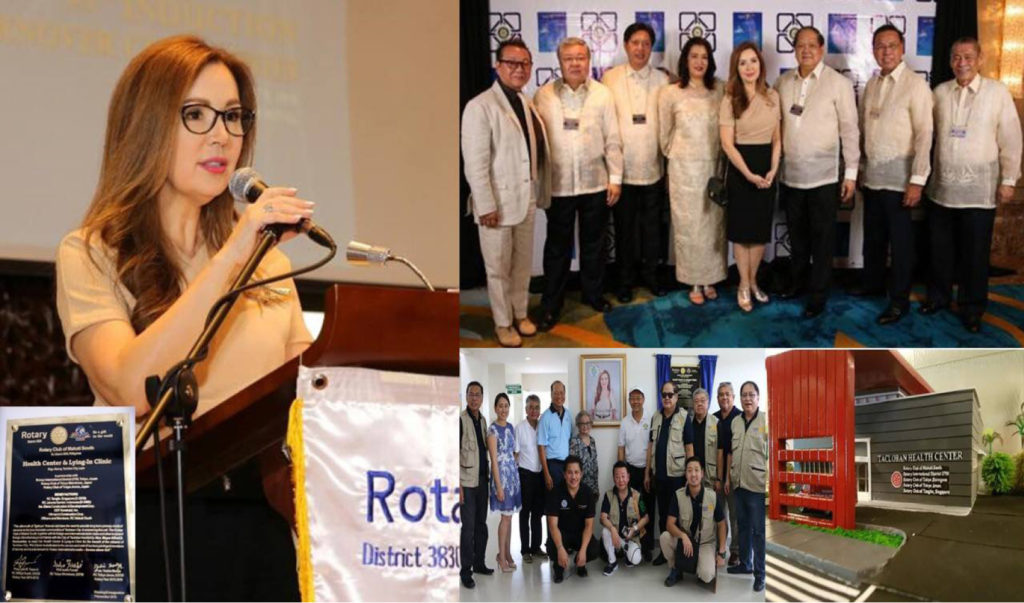 TACLOBAN CITY- City Mayor Cristina Romualdez has extended her gratitude to all the Rotarians who made possible the existence of the newly- built Abucay Health Center located at the back of the New Bus Terminal during the induction of RC Makati South Officers held recently at Dusit Hotel in Makati City. In her message, Mayor Romualdez graciously thanked especially the Rotary Club of Makati South, its counterpart the Rotary International Dist. 2750; RC Tokyo Shirogane; RC Tokyo Jonan, Japan; RC Tanglin, Singapore together with its foreign and international sister clubs and other local and foreign benefactors for joining hands with the city government of Tacloban under the administration of then Mayor Alfred Romualdez in building the Abucay Health Center and Lying-in Clinic. The health center, according to Mayor Cristina, will serve hundreds of marginalized Taclobanons, especially those living near the Abucay area, Nula-Tula, Anibong and the commuting public or passengers from other part of Eastern Visayas.
The health facility will provide primary health medical and dental care services and a lying-in clinic for pregnant mothers. Other benefactors of the establishment of the Abucay health center project includes: RC Makati South D3830; RC Tokyo Shirokana, D2750 and RC Tokyo Jonan, Japan D 2750; RC tangin, Singapore (D-3310); RC Jakarta Gambir, Indonesia (D3400), Sta. Elena Construction Development Corp., DDT Konstract Inc., Hilmarc's Construction Corp., Officers and members of RC Makati South.
The P15 million-worth Abucay Health Center is a complete mini- hospital and will qualify as an infirmary mini hospital with birthing facilities that has an emergency room, delivery room, labor room, recovery room, doctor's room and dental room with portable X-ray machine and ultra sounds, open to public service 24/7.
The establishment of the health center building to include its facilities was a consolidated effort made by the local and foreign kindhearted and compassionate Rotarians, Mayor Cristina said.
The building marker unveiled during the turn-over ceremony stipulated that the aftermath of supertyphoon "Yolanda" that devastated Tacloban in 2013, laid bare the need to provide long term primary medical services to the less fortunate communities of the city. In answering to this call, the Rotary Club of Makati South, together with its foreign and international sister clubs and other local and foreign benefactors joined hands with the city of Tacloban headed by then Mayor Alfred Romualdez to put up the Health Center and Lying-in Clinic for the benefit of the citizens of Tacloban City. The center is dedicated to the service and care of the less privileged members of society and is a testament to Rotary International motto- "service above self". The Rotarians were likewise responsible in facilitating some 200 Canadian donated mechanical medical beds of which the city government was the recipient. Rotary Club Dist 3860 past governor Salvador Estudillo disclosed in an interview that said mechanical beds were distributed to the Tacloban City Hospital and various health centers and lying-in clinics in the City. (GAY B.GASPAY/TISAT KANHURAW MEDIA TEAM/Photo: BILLY CINCO)