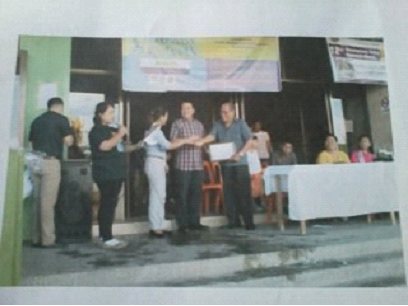 SAN ISIDRO,Nothern, Samar— The mayor of this town, Conrado Avila, Sr. was nominated for this year's search conducted by the Civil Service Commission among public servants. Avila, who is serving out his third and last term as mayor, was nominated for the annual search for his being a dedicated public official which contributed to the improvement of the living conditions of his constituents.
His nomination for this year's CSC search was made by Marilyn Anzano, a bookkeeper of the San Isidro National High School. "As a former educator for more than a decade before entering politics, first elected as SB member, vice mayor and mayor respectively now serving his last tenure of office,(Mayor Avila) have shaped the foundation and successful direction of this town," Anzano said citing her reason why she nominated the 74-year old prestigious award. The town mayor received his nomination during this year's anniversary of the CSC held at the lobby of the provincial capitol building in Catarman last September 25.
The said awards program is an annual undertaking of the CSC that recognizes government officials and employees who have outstanding work performance that aims to motivate or inspire government employees to improve the quality of performance and instill deeper involvement in public service.
Avila's major achievements as a town mayor included making San Isidro 1st place in real property tax collection efficiency in 1994 in Northern Samar; Seal of Good Housekeeping by the Department of Interior and Local Government in 2011 and 2012; the only municipality in the entire province to be granted by the CSC the authority to take final action on appointments, under its agency accreditation program on Feb. 27, 2012; and Department of Education's Division Pasidungog Award for their exemplary contribution and service for the successful implementation of programs and projects on Dec. 15, 2012, among others.
And during the onslaught of supertyphoon Yolanda that devastated Yolanda, Mayor Avila extended assistance to Leyte, one of the hard-hit towns, by giving relief items worth P500,000.(PETER D. PAREDES)