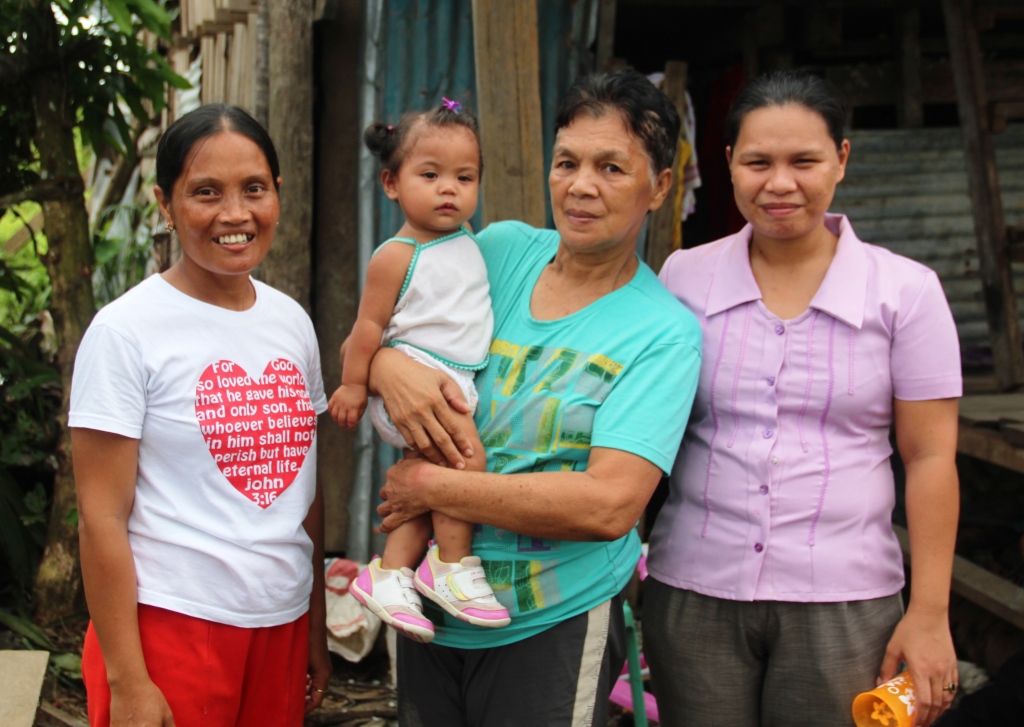 Heroism has always been branded with masculinity. Oftentimes, the hero is projected as a charmer, a knight in shining armor, or a mysterious lad in tight colored costumes and capes ready to rescue a damsel in distress. But not anymore, because there is one hero I have met who battled the test of Yolanda but does not fit into our collective macho illusion of a hero. Marites, in her forties, is a typical woman from Balangiga, Eastern Samar. But what makes her nonconforming is the fact that she has a son without a the husband- a set-up still not recognized by the conventional norms of her community.
She was married once to "Buboy", a man she met from her garments and tailoring job in Manila. But, after she gave birth to son Joshua, her dreams of a complete and happy family vanished. "My baby was only two months old when I decided to go back here in Balangiga because I want a real home for my son. I conceived him in the factory; he was born inside the factory. But I do not want him to grow up in that same factory," Marites explained. She left Manila with a promise from her husband that he will follow her. But the promise turned into years of waiting then to nothing. "I did not wait and I will never wait for him because I was able to raise a good child and send him to school," Marites said with pride in her eyes. Solo but stronger For Marites, being a single mother was not easy especially if you are playing two roles at the same time. She needed to be strong and tough in order to make ends meet. What she is thankful for despite her painful experience, is the presence of her only son and the learnings she gained from Kalahi-CIDSS on gender empowerment. "I entered Kalahi- CIDSS without any idea about the program. All I knew is that it can help us, that is why I joined as a volunteer," she said. The trainings she attended were the most exciting part of being a Kalahi beneficiary." I learned that women now can perform the responsibilities of the men and that there should be equality," she said,referring to gender equality being promoted by the program.
Marites knew life could really be tough to a single-mother like her but she knew she is still blessed. "I have my son with me. I think if not for my Joshua, life would be more difficult," she said. She revealed that it was not easy to become a mother and a father at the same time. She needed to be strong and tough to be able to make ends meet. Almost everyone from Brgy. 1 of Balangiga knew Marites during community assemblies. Issues and grievances are properly channeled to the concerned people and authorities with her help. Her neighbors would even call her the official speaker of their community because of her ability and confidence to voice out their sentiments. As member of the procurement team, Marites is also known to be the 'eye' of their group who scrutinized every document and supplier's record. She even recalled an incident where she was forced by a former barangay official to forge a signature to hasten the procurement process; but resisted due to her conviction and trust to KALAHI CIDSS's principles. Even small issues against transparency and accountability cannot pass Marites. "I do not allow small inconsistencies on spellings. We should follow what is right and obey our rules," she said.
Yolanda's Test
The treacherous morning of November 8, 2013 was a day the whole country and even the rest of world will never forget. The tragedy and appalling deaths brought by Typhoon Yolanda remained to be nimaginable. But, to Marites, it was a day of new hope, of a new life. Though recalling the horror of the storm was still agonizing, Marites still narrated her story of strength and bravery. "It was really horrifying. We thought it was the end of us. Our only source of refuge was a large crack on a wall next to our house where we took shelter from," she said.
That was the time where Marites heard Mana Biding shouting from afar, trapped in a sea of cold water brought by the storm surge. The old woman was crying for help, holding a fragile baby almost turning into color blue due to the freezing wind and water. The baby, named Shara who just turned a month old could have died that morning if not for Marites' courage. When asked why she did not hesitate to save the baby, she immediately replied, "Maybe that is what we called CDD. I risked my life to save a child." "If there is one thing I learned from KALAHI CIDSS, that is to serve the community and other people before myself", she added optimistically. Kalahi-CIDSS-NCDDP or Kapit-Bisig Laban sa Kahirapan Comprehensive and Integrated Delivery of Social Services –National Community Driven Development Program, a poverty alleviation program of the Department of Social Welfare and Development (DSWD) scales up the Community-driven Development (CDD) strategy, which was used and proven effective by Kalahi-CIDSS in its past 11 years of implementation.
Using a community-driven approach, KALAHI CIDSS-NCDDP empowers the poor and vulnerable communities by involving them in participatory planning, implementation and management of local development activities. They identify their own needs and prepare project proposals to address their common problems. These projects include local infrastructure such as water system, roads, bridges, health stations and school buildings. "Though there was fear, I knew that I cannot turn my back on the baby. They needed my help. I knew they are going to lose the baby If did not do something. Yes I was afraid but I am more scared of my conscience," Marites tearfully recalled.
Because of Baby Shara's story, many people from their place come to know of her heroic act, but Marites remained to be unassertive of the compliments she heard. "I was known to be the voice of our barangay, their speaker if there are problems, but never did I imagine I could be considered a hero after the typhoon. I just realized we can be heroes by simply helping our fellowman," she said. Today, Marites is busy with her own eatery and sari-sari store while her son Joshua, a Pantawid Pamilya beneficiary before, is currently a college freshman enrolled in a Computer Science program. The Pantawid Pamilyang Pilipino Program is a human development program of the national government that invests in the health and education of poor households, particularly of children aged 0-18 years old. It is a conditional cash transfer scheme that provides cash grants to beneficiaries provided that they comply with the set of conditions required by the program. Baby Shara, on the other hand, turned one year old on October and Marites was expected to be her first godmother on her baptism rites. (PR)