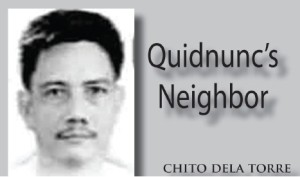 Hello! Kumusta? ("Como esta?) (How are you?)
It's been a long time now, since Yolanda made its second coming after 1912, that we haven't had any contact with each other (QN and its readership from various parts of the world).
Since QN's comeback may surprise readers/followers, the most appropriate thing to say is "hello", or "how are you?". QN says both, to all.
Typhoon Yolanda did its worst. As it submerged Tacloban highly urbanized (after that monster of a typhoon crushed many parts of Eastern Visayas, Philippines, the term took an anachronism: "ruba-nized"!!) city in killer floods caused by three violent tsunami-like storm surge waves (some said the waves rose to as high as 23 feet), Yolanda took away several lives of its own denizens, mostly God-fearing Catholics, including such valuable wealth as the local media outlets, although only temporarily in the case of a very small number of the latter.
For a few days, I was told much, much later, Leyte Samar Daily Express had been placed out of circulation but had then to stand up, although not on a daily basis as its usual frequency, but weekly, to continue fulfilling its commitment in chronicling and interpreting the news and events. LSDE staff writer Joey Gabieta, whom I accidentally met in Tacloban's downtown center, told me about the resumption of LSDE publication and that the LSDE is holding office just across the street from its editorial location at the Knights of Columbus along Padre Zamora street. Then, Alma Montallana Grafil, wife of LSDE publisher Massey Candido Grafil, told me to resume now writing for the LSDE. I was then outside the LVN internet café where I use to do my computer works (until the shop loses at 10 p.m.) when Alma walked out of the office next door which happens to be the temporary editorial office of LSDE. It was not until minutes earlier that I learned this newspaper is already back to its command right near me. It was when my better half, Cione, who uses to accompany me to the LVN (she never wanted to be left alone at home after Yolanda shattered many parts of our house at Panalaron, on the very site where flood is always highest than any part of downtown Tacloban), walked from my back and came back to tell me she had just been to the LSDE office. She brought me Coke from the LSDE which was already preparing to close the office for its next day's work.
And here I am. QN is now back on this page.
How glad have I been to personally learn that the humble couple behind the LSDE and its sister newspapers (all published by Massey with Alma's inspiration and untiring help) are very much alive. Massey and Alma battled the killer waters that swept into their home at PHHC (Housing) and, thanks God!, they were out safe on the rooftop. The couple suffered wounds. In due time, they were in Manila for hospital care. Weeks later, they were back to where Yolanda's fiery had been, but since Massey's extreme pains on his wounded leg kept him from leaving home and doing his erstwhile routine social and regular functions, Alma, despite her own painful feelings and chagrin, braved the challenges of managing the newspaper. Thru her sacrifice, thanks, too, to Joey Gabieta's unwaring efforts, persistence and commitment to the cause of journalism (which in Region VIII was at its height immediately before and after Yolanda 2013!), this newspaper has resuscitated from the deathly mountains of post-Yolanda debris, and now, as always, there's no stopping it from serving the news reading publics in Tacloban, the whole of Region VIII, the Philippines, and the world. Viva Leyte Samar Daily Express.
Husband and wife Massey and Alma being religious, devout Catholics and believers in the miracles of the Holy Child Jesus, rely prayerfully on Our Merciful Almighty God through His Son Jesus Christ, Our Lord. Because of that, I do believe without doubt that God took care of them during the deadly hours that swept over Tacloban and many other towns in Region VIII. Thanks be to God and Our Lord Jesus Christ for keeping them under Your Care. Your letting them be with us makes us aware that the important role that the spirit of the media plays in the lives of people, especially the young and old Warays, will also be here, like a guiding torch light, in almost the same way that Jesus is, has been and will be forever.