Food tourism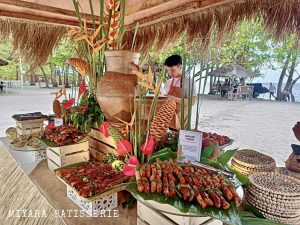 TACLOBAN CITY – The regional office of the Department of Tourism was glad that some of the local dishes particularly "merienda" or refreshment food were served during the recent visit of an international cruise ship in Leyte.
Two chefs from Ormoc and Tacloban helped prepared the foods that were served to 228 American and European guests onboard the Silver Shadow cruise ship that arrived at Kalanggaman Island in Palompon from Palau and Papua New Guinea.
While Chef Jin Ho Yoo of Ormoc Herbs prepared the meal courses for the guests which included the popular lechon, Chef Myla Mabute of Miyara Patisserie served Filipino meriendas consisting of squash turon, special chocolate moron, buko carioca, minatamis na saging, halo-halo, leche flan, buko pandan, coconut macaroons, and maja blanca.
"It's indeed an honor to be catering to international palates and showcasing our world-class service and food," Mabute said.
This is not the first time the local meriendas were served to cruise ship guests when they made a stop in the region.
In 2018, when the Silver Discovery docked in Capul town, Northern Samar, local delicacies were also served to the foreign guests.
Serving Filipino and Eastern Visayas dishes to foreign guests is one of the dream of the tourism department here for them to be appreciated and promoted in wider audience.
Regional Director Karina Rosa Tiopes disclosed that it is not a requirement for them to serve local foods to foreign guests as they have a listed menu served to them.
"That is really our main goal. If we have foreign guests, w can show to them not just our culture but even our cuisine," Tiopes said.
"The only thing we have to consider is that they have also required certain types of menu but we are happy that the snacks served to them were something new to them which they savored," she added.
Of the snacks food that was prepared by Miyara Patisserie, among the guest requests are fruit popsicles, and fresh fruits skewers.
They also served classic cheese burger and tres quesos negritos (Black Burger) including pizza.
Promoting food tourism and highlighting the importance of local cuisine is one of the programs that Secretary Christina Garcia Frasco wanted to focus on.
(ROEL T. AMAZONA)