CARIGARA, Leyte – The Leyte Second District Engineering Office (L2DEO) of the Department of Public Works and Highways (DPWH) underwent a three-day internal quality audit (IQA) from August 29 to 31, 2023.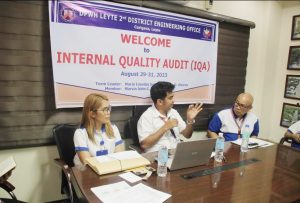 Prior to the audit proper, the auditors discussed the itinerary and scope of the audit process covering the district's management, planning and design, construction, maintenance, quality assurance, financial, administrative, equipment services, information management, procurement, public affairs and information concentrating on its operations, systems, and processes on transactions from 2022 to the present.
The auditors reviewed papers and documents to determine whether the district office adhered to the department's established standard operating procedures in accordance with the quality management system (QMS) manual.
Corrective action based on the findings of the last year's IQA reports was also evaluated to determine if the district office is already compliant.
An exit meeting was concluded on the third day of the IQA. The auditors presented the initial observations and findings but stated that they would be subject to deliberation by the QMS-IQA auditors to classify whether they would be considered conformities, opportunities for improvement, or non-conformities. Final results will be endorsed via email for management's corrective actions.
District Engineer Leo Edward Oppura guaranteed that the auditors' suggestions and conclusions would be taken into consideration and ensure effective resolutions as soon as possible.
The purpose of the audit is to define a system for planning, implementation, and analysis of the IQA and follow-up audit activities, reporting results, monitoring the actions taken, and ensuring that the QMS is effectively implemented and maintained.
The Leyte Second District Engineering Office has been accredited with ISO 9001:2015 since 2015. (LIZBETH ANN A.ABELLA)