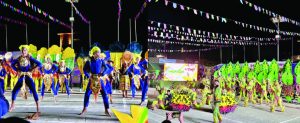 MATAG-OB, Leyte– This town successfully held its second Himorasak Festival on Sunday (September 24) with eight clustered barangays participating in the street dancing and ritual dance presentation.
Himorasak, a local word for abundant, is a festival organized by the local government held every month of September in time of the rice harvest season of the municipality.
Matag-ob is one of the local government units in Leyte province that is considered as a top rice-producing town.
Top prize for the 2nd Himorasak Festival was won by Cluster 8 carrying a cash prize of P50,000.
Matag-ob Tourism Officer Jude Sulla said that they will be conducting a post-festival assessment immediately to determine how they can improve in hosting the event to make it better in next year presentation.
"We will be doing it within this week with all the members of the executive committee," she said.
Sulla added that hosting the month-long event helps the municipal government attract and invite people to visit their municipality.
Mayor Bernardino Tacoy, for his part, said that since they introduced the festival last year, they saw its potential in helping them boost their tourism industry and help their local farmers.
Tacoy said that they created the festival as a way of giving thanks for an abundant harvest and in the process, help improve the living conditions of his people and the same time, promoting its own culture and tradition.
Tacoy added that next year, he is planning to open the festival competition to their neighboring localities to join.
Department of Tourism Regional Director Karina Rosa Tiopes said that opening the festival to participants from other localities is a good plan because it shows that localities in the fourth district are working in unison.
She also lauded the local government and the festival organizers for coming with the event.
"I'd like to salute the festival contingents, their choreographers, and organizers. It is not easy to come up with a festival from the conceptualization, the creation of steps in dancing, to the creation of props, and even the music that they will be using. It's not that easy," Tiopes said. (ROEL T. AMAZONA)