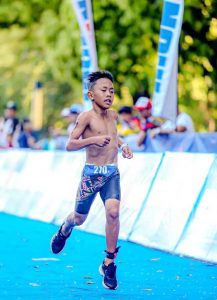 ORMOC CITY-A Grade IV pupil from Albuera, Leyte ruled the Aquathlon 9-10 (swim-run) category of the first stage of the Iron Kids competition held on March 25 in Davao City.
Francis Gabriel Batican, 10, and enrolled at the Albuera North Central School defeated nearly 300 other competitors.
The category consisted of 150 meters swim and 1.5 kilometers run.
Batican got interested in the sport in the early age of eight because he was influenced by his elder brother Ryan who is also a runner, while their father Reynante was coaching them both.
The kid's idea of joining the event came when he was in Ormoc City and saw some of his teammates in running from Albuera Team were participating in the sport called triathlon and aquathlon held at the in Ormoc City Plaza stage.
Since then, the boy started practicing every day and the fruit of what he was dreaming paid off when he was declared the champion of the Iron Kids 9-10 category.
(ROBERT DEJON)