Town's main church sustains damage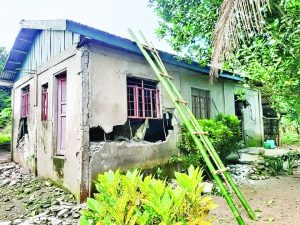 TACLOBAN CITY– Classes and work in Leyte town, Leyte, were suspended on Monday (Jan.16) after it was rattled by a 5.1 magnitude quake on Sunday night.
Mayor James Arnold Ysidoro said that the suspension is meant to ensure the safety of the students and workers due to possible aftershocks of the 8:28 pm jolt.
At the same time, to give way to inspections to be conducted in public buildings across the town which is projected to last a day, he said.
The town mayor urged school and barangay officials to conduct inspections at their respective places and report them to the municipal government.
The municipal disaster risk reduction management office (MDRRMO) reported of eight persons who sustained minor wounds due to fallen debris.
The local police, however, said that at least five persons were wounded.
It was learned that several houses in the town of more than 40,000 people sustained damages like cracks and damaged ceilings.
A part of the ceiling of the main church of the town, Immaculate Conception Church, was also damaged due to the 5.1 magnitude quake with several statues crashing to the ground.
The MDRRMO also reported that roads were observed to have sustained cracks in the aftermath of the quake like in the Poblacion and in the villages of Salug and Consuegra.
The Sunday night quake, which traced the Leyte town as the epicenter, also triggered aftershocks.
The first aftershock occurred at 9:11 pm with a magnitude of 3.6 followed by a 2.0 magnitude which happened at 12:14 midnight and another 4.7 magnitude that happened at 5:32 am.
The said jolt was also felt in the towns of Capoocan and Kananga, both in Leyte at Intensity V; Calubian, San Isidro, and Tabango, all in Leyte at Intensity IV; Cabucgayan, Caibiran, Culaba and Naval, all in Biliran, Alangalang, Barugo, Carigara, Jaro, Tunga, and Villaba, and in the cities of Ormoc and Tacloban, all in Leyte at Intensity III; Almeria, Biliran; Matag-ob, Santa Fe, all at Intensity II; and Borongan City, Eastern Samar and Bogo, Cebu at Intensity I.
(With LIZBETH ANN A. ABELLA)