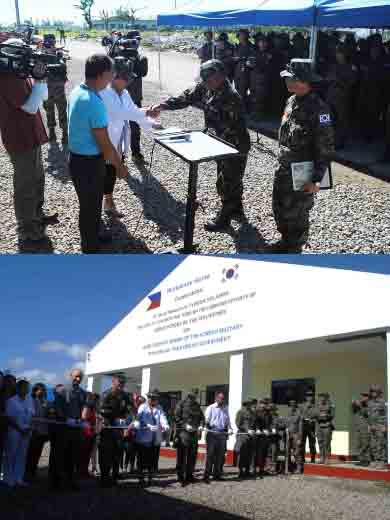 PALO, Leyte-Soldiers from the Republic of Korea conducted the repair of the Leyte Provincial Hospital which was severely damaged by supertyphoon Yolanda.
And after more than 30 days of work, the hospital is now functioning enough to offer health services to the people, a gesture welcome by chief of hospital Doctor Ophelia Absin.
"They are really a big help," she said.
The 86 Korean soldiers, led by Colonel Chu Wan Lee, turned over on February 5 the rehabilitated buildings of the LPH.
"Of course, we are happy with the help extended to us by our Korean soldiers and their government. You know, we cannot accomplished this if we just rely on our (provincial) government considering that we are all affected and it will cost huge amount of money," Absin said.
The Korean soldiers worked for almost a month, to include Saturdays and Sundays, just to finish the repair of the hospital's out-patient department, laboratory, Ex-ray room, ward's department and even its canteen.
The soldiers started their work on January 3, 2013 and finished their work by February 5, this year.
The rehabilitation just cost P1.3 million, according to the Lee.
Their Filipino counterparts also joined in the work aside from providing them security, said Brigadier Gen. Rolando Malinao, head of the Task Force Yolanda.
"I was deeply moved by the hospital's personnel passion to look after the patients despite of the (bad) condition of the hospital," Lee said.
When they first visited the place on December 30, they were shocked on the condition of the hospital- destroyed and full of debris.
Its patients have to contend with rooms without roofs on their heads.
Major Kwon Doo Young, public relations officer of the Korean troops, said that they were "so concern" with the physical condition of the LPH that instead of helping its patients recover from their ailments, it could only aggravate their health condition and spread of more diseases.
This was the reason why they made the rehabilitation of the LPH as their priority among other public buildings in Palo destroyed by Yolanda, Young said.
Absin said that with the restored LPH, they could now serve better their clients who are not only from the Palo town but from other areas of Leyte and even Samar.
The LPH, which has a 100- bed capacity, closed its operations after it was hit by Yolanda and reopened on November 22, 2013 despite of the damaged condition of the buildings and its facilities.
Leyte Board Member and former governor Mimiette Bagulaya said that the people of Leyte have so much to thank for on the assistance extended by the Korean government.
"This really means a lot for us. They were really a big help,"Bagulaya said.
By: JOEY A. GABIETA